Yamaha JX113T SC2 Silent Piano
SKU: JX113TSC2PE
Yamaha Student Upright Silent Piano

Includes SC2 Silent system for silent playing.
113cm Tall
Mahogany panel strip
Assembled in Indonesia from Japanese made parts
Includes

 

tuning, regulation and voicing
Includes stool & delivery
Includes FREE piano pack including:
Metronome

Unicorn Piano Polish

Yamaha & Logans 50th anniversary Commemorative Clock
Combining quality & looks Ideal for the home environment, the JX113 looks great with its mahogany panel strip. Besides its exterior design, the rich tonal quality also makes it a great instrument for students taking intermediate piano studies. Manufactured under Yamaha's stringent quality control, each piano provides years of piano playing enjoyment to the user.

What is SILENT Piano™?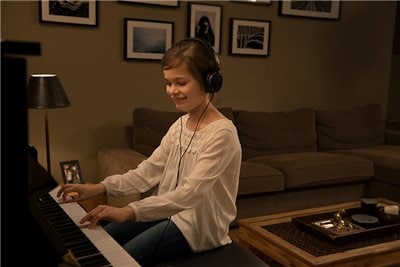 When the SILENT Piano™ function is activated, the hammers will no longer hit the strings and instead, a highly sophisticated sensor-technology captures all movements of the keys and sends them to the digital tone module. Play a real acoustic piano with headphones at any time, day or night without being disturbed or disturbing others. The Yamaha Silencing System is unsurpassed, allowing 24hr practice as well as possessing many other features including a range of pre-installed sounds, being able to record your own performances or connecting mobile devices to use the latest Apps.
Two World-Renowned Piano Sounds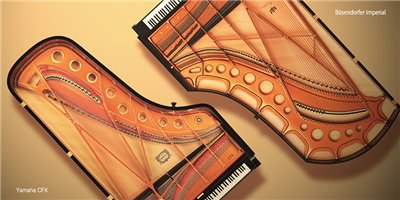 You can play SILENT Piano™ SC2 type with the voices of CFX, Yamaha's finest concert grand piano, and Bösendorfer's legendary Imperial. All 88 keys are sampled individually. As Yamaha's flagship grand piano, the majestic CFX boasts a wide palette of tonal colors, from sparkling high notes to powerful bass tones. The legendary Bösendorfer, meanwhile, is renowned for its sonorous and rich Viennese sound.
10 various voices
SILENT Piano™ SC2 type offers total 10 pre-installed sounds such as electric pianos, harpsichord, and organs, allowing you to select the ideal voice to match your preferred musical genre.
Rich resonance and subtle accurate reproduction
CFX Binaural Sampling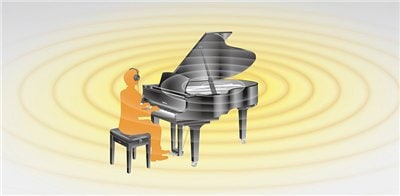 Yamaha's advanced binaural sampling technology uses samples from the CFX, Yamaha's acclaimed concert grand piano, recorded with specialized microphones that capture locational information and other nuances discerned by the human ear. The resulting sound is so natural, so enveloping, that you'll soon forget you're even wearing headphones at all.
VRM physical modeling—the distinctive reverberation generated by the entire body of a concert grand piano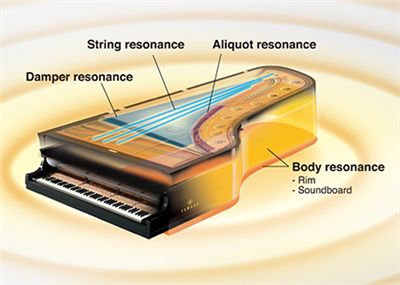 In a grand piano, sound resonates throughout the body of the instrument, producing a rich reverberation that envelops the listener in sound. This phenomena is reproduced perfectly through enhanced Virtual Resonance Modeling (VRM). The original VRM calculates the various states of the strings for each of the 88 notes on the keyboard, from one instant to the next, and timing and depth of damper pedals pressed. The enhanced VRM now also calculates aliquot resonance in the upper octaves, and the full resonance of the soundboard, rim, and frame. This technology allows for vivid, bright, richly-varied expression that reflects the limitless number of factors inherent in piano performance.
Stereophonic Optimizer (Piano Voices other than CFX Grand)
Stereophonic Optimizer is an effect which reproduces the natural sound distance, like with the sound of Binaural Sampling, even though you are listening to it on headphones. When one of the Piano Voices other than CFX Grand is selected, the Stereophonic Optimizer is enabled.
Smooth Release-From staccato to legato, superbly expressive sound that responds to the player's touch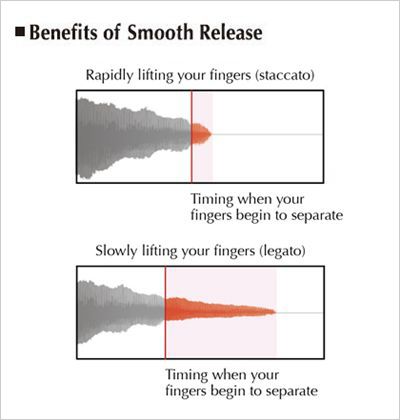 Featuring Yamaha Smooth Release technology, SILENT Piano™ SC2 type offers the crisp tone heard when playing staccato as well as the lingering sound produced by releasing the keys more. This provides finely-nuanced response to the pianist's playing.
Key-Off samples
The moment a pianist's fingers are lifted from the keys of a grand piano, subtle changes occur in the instrument's tone as the damper is lowered onto the strings to mute its sound. Key-Off samples features actual recordings of these changes, offering a faithful reproduction of the most subtle changes in the piano's sound, allowing for a more realistic performance.
Unique Yamaha technology retains the all-important touch of the piano
Key sensors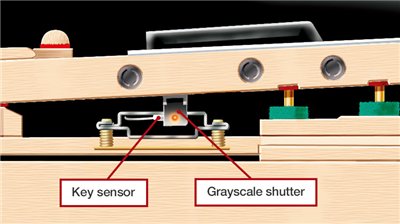 Under each of the 88 keys is a Yamaha-unique continuous-detection grey-scale shutter key sensor. These sensors detect the movement of the keys continually, allowing natural musical expression even when the piano is in SILENT Piano™ function. Since they do not come into contact with the keys, these sensors do not affect the feel of the keyboard in any way.
Quick escape system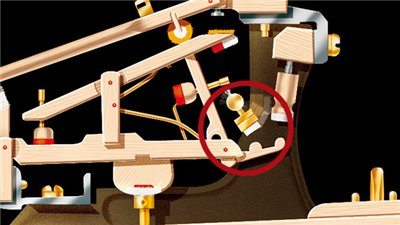 Grand piano with SILENT Piano™ SC2 type features a quick escape system that allows the sound muting mechanism to be fitted to a grand piano without sacrificing any of the playability or musical expression demanded of such instruments in an acoustic performance. This system allows optimal separation to be obtained between the hammers and strings by adjusting the distance between the hammers and strings, ensuring that the feel of the keyboard stays in the best possible condition whether playing acoustically or with the sound muted.
General functions
Smart Pianist App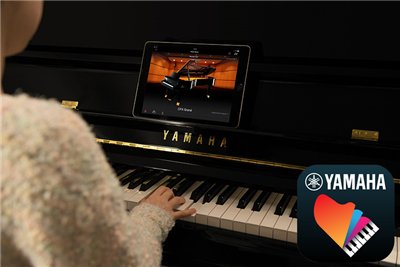 The smart device app "Smart Pianist" (available as a free download) enables you to use the functions such as selecting Voices, controlling the metronome intuitively with the visualized interface, or display the score on your smart device.
The UD-WL01 USB Wireless LAN Adaptor (sold separately) is required to use Smart Pianist over a wireless connection.
Sophisticated & simple design of the control panel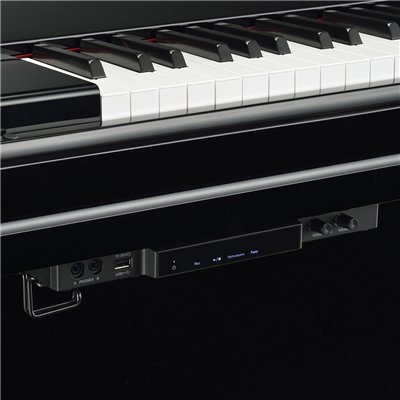 The control unit has been given a sophisticated design that unobtrusively blends with the piano itself. Moreover, the simple controllers allow you to operate the instrument easily.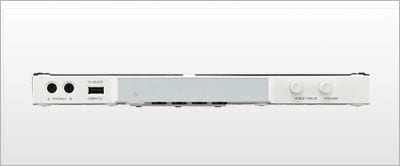 For Polished White finished piano, the white colored unit will be installed.
Connection terminals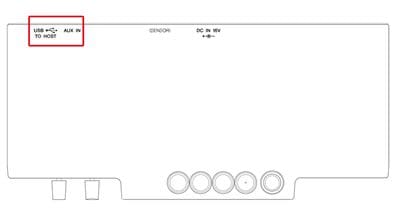 The USB TO HOST terminal allows you to connect to a computer or portable device and record high-quality audio without the need for an additional interface. AUX IN allows listening the sound from the external devices (sound source modules and music players).
Bulit-in recording and play back functions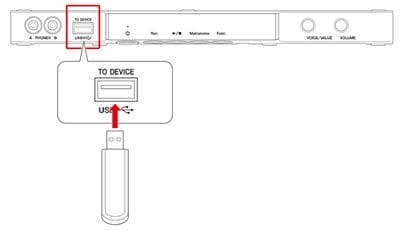 SILENT Piano™ SC2 type can record one song in the internal memory. Additionally, connecting commercially available USB memory to the unit allows you save recording data, and play back songs.
Headphones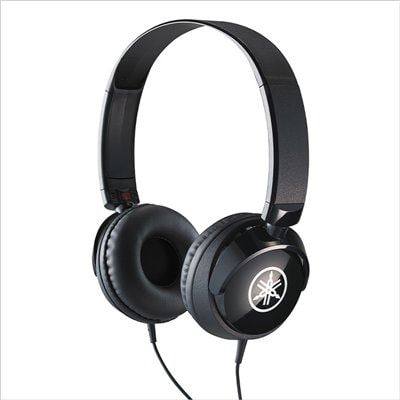 Simple and compact headphones that come with SILENT Piano™ SC2 type let you enjoy professional-grade sound quality.
Metronome
SILENT Piano™ SC2 type has a built-in metronome that can be used in SILENT Piano™ function so that players can listen to precise rhythm while they play.
SPRUCE SOUNDBOARD
At the Yamaha lumber mill and wood processing facility, the finest spruce is quarter sawn; and less than 10% of the total is selected and reserved for Yamaha piano soundboards. Solid spruce, rather than laminated spruce or poplar, is the choice in all fine pianos for the best amplification of sound, best tone and sustain.
SEASONED FOR DESTINATION
Yamaha specifically seasons this piano for the Australian market using a proprietary technology. The tuning stability, finish and overall musical integrity are enhanced over the long life expected of a fine piano.
TUNING PINS
Made in-house at Yamaha, Yamaha tuning pins are made to exacting specifications to ensure stability and durability.
PINBLOCK
Yamaha pinblocks are made in-house to ensure that correct materials and procedures are used. This is vital for long term tuning stability.
SPRUCE KEYS
Yamaha uses Spruce for the keys on all models of pianos. Spruce is very light and possesses a very high ratio of strength to weight. It is ideal for key construction, even though its cost is greater than either sugar pine or bass wood. Yamaha keyboards respond quickly providing fast repetition for the most intricate piece of music. Yamaha keyboards withstand heavy use over years of fortissimo passages.
V-PRO PLATE
Yamaha uses V-Pro (Vacuum Shield Mould Process) in casting the iron frame (plate). V-Pro plates are stronger and visually more appealing. Critical dimensions are produced more accurately than before.
METAL ACTION RAILS
Yamaha engineering developed a unique Extruded Aluminum Alloy Action Rail (bearing a Yamaha patent) that is one of the best innovations for improving a piano action in the last 100 years. The usual fluctuations in wood rails that effect touch, caused by periodic weather changes, are eliminated allowing stable, long-lasting action regulation.
BALANCED ACTION
Each key of a Yamaha piano is individually tested and measured for the corrections needed to obtain uniform "down weight" pressure. Yamaha actions play correctly and uniformly. This balancing helps ensure a lifetime of superior touch and control across the keyboard.
UNIFORM KEY TRAVEL
Yamaha designs all grand and vertical pianos to have the same key travel. Regardless of size, type or model of Yamaha piano, the keyboards will always feel the same.
FINISHES
Polished Ebony
DIMENSIONS
Width 150 cm (59")
Height 113 cm (44 1/2")
Depth 54 cm (21 1/4")
Weight 220 kg (495 lb)
KEYBOARD
Key Surfaces - White Acrylic resin
Key Surfaces - Black Phenolic resin
Hammer Type JU/JX Series Special
Pedal Damper/Silencing pedal/Soft
Caster Single caster
Lid Prop Safety Stop -
Lid/Fallboard Locks -
Soft-Close Fallboard -
Key Sensors Non-contact continuous detection optical sensor
PEDALS
Damper Pedal Continuous detection sensor
Sostenuto Pedal -
Soft/Shift Pedal On/Off detection sensor
Mechanism Hammer shank stopper operated by center pedal
Action -
TONE GENERATION
Piano Sound Yamaha CFX, Bösendorfer Imperial
Binaural Sampling Yes (CFX Grand Voice only)
VRM Yes
Key-off Samples Yes
Smooth Release Yes
Polyphony (max.) 256
Preset Number of Voices 10
Reverb Yes
Brilliance Yes
Stereophonic Optimizer Yes (Piano Voices other than CFX Grand)
SONGS
Number of Preset Songs 10 Voice Demo Songs, 50 Classics
Recording Number of Songs 1
Data Capacity approx. 550 KB
Playback Format WAV (44.1 kHz, 16 bit, stereo), SMF (Format 0, Format 1)
Recording Format WAV (44.1 kHz, 16 bit, stereo), SMF (Format 0)
Recording Time (max.) 80 minutes/Song
OVERALL CONTROLS
Metronome Yes
Tempo Range 5 – 500
Transpose -6 – 0 – +6
Tuning 414.8 – 440.0 – 466.8 Hz (approx. 0.2 Hz increments)
CONNECTIVITY & STORAGE
Internal Memory approx. 550 KB
External Drives USB flash drive
DC IN 16 V
Headphones Stereo mini jack (x2)
MIDI -
AUX IN Stereo mini jack
USB TO DEVICE Yes
USB TO HOST Yes
AC Adaptor PA-300C (or an equivalent recommended by Yamaha)
Power Consumption 11 W (When using PA-300C AC adaptor)
Auto Power Off Yes
ACCESSORIES
Included Accessories AC adaptor, power cord, headphones, headphone hanger, attachment screws for headphone hanger, Owner's Manual.
Separately Sold Accessories USB wireless LAN adaptor (UD-WL01), wireless MIDI adaptor (UD-BT01/MD-BT01).
"We want our clients to have peace of mind with a finished and performance-ready piano of superb quality. We do not cut corners, and we will never settle for anything less than getting the best out of every piano we sell." - Geoff Logan
Why Buy Your Piano From Logans?
Anyone can tell you they provide great service, but can they prove it? Logans Pianos have been in the piano business for almost a century, and in that time we've provided pianos for some of the most important performers and institutions in the music industry. Our long history as Sydney's most trusted name in pianos bears testament to the fact the we are the best in the business, and we have the evidence to back that claim up.
Now with four generations of experience, we have the expertise to ensure that a piano from Logans will deliver the best possible performance and the greatest enjoyment for many decades to come.
All pianos purchased from Logans come with a minimum of $1250 worth of extras, including:
Minimum three courses of tuning, regulation & voicing
10 Year Warranty, and free after sale care
Delivery to ground level
Matching Yamaha piano bench
Limited Time offer: 50th anniversary pack, including fitted piano cover, metronome, piano polish & commemorative clock with Logans and Yamaha logos. 
What is Piano Regulation?
Production schedules in factories only allow for a certain amount of time to be spent on each piano. Additionally, pianos are shipped in vacuum sealed environments, and moving parts shift slightly as they adjust to their new environment. Adjustments made by a piano technician to an instrument's keys and action to compensate for these shifts is referred to as "regulation".
All new pianos before leaving their factory are tuned and regulated. Piano components including wood, felt, and doeskin have a tendency to "bed down" and change in thickness for some time, thus altering the regulation and performance of the piano. All manufacturers fundamentally insist that their new pianos be regulated again before being sold.
Today, piano regulation is a dying art, and Logans are one of very few piano shops in Australia that still perform a full course of regulation as part of every sale. A large percentage of pianos sold in Australia receive no more than a single tuning at this most important stage in their lives - a fact even Yamaha Australia have tactely acknowleged in labelling Logans Pianos the only Yamaha Piano Authorised Sales and Service Centre in NSW.
Why is Regulation Important?
Piano regulation is vital to ensuring a long and healthy life for any piano, whether it's a $6000 upright or a $500 000 Concert Grand. The minute adjustments made by a piano technician prevent vital moving parts for rubbing together and wearing prematurely, and ensures a clear, even volume by ensuring the action is balanced across all 88 keys.
Additionally, it removes the "stiffness" that experienced piano players often complain of when playing a brand new pianos, and brings out the full performance potential inherent in its design. Traditionally, regulation was considered an essential part of the purchase of a piano, and piano dealers were judged on the quality of their regulation.
Piano Voicing
Piano voicing involves balancing the volume, tone, and overall sound of the piano by adjusting the hardness of the hammer felts by pricking them with needles using a tool called a "picker". While this sounds like a simple enough task, it requires years of experience to get a feel for how to achieve the "right" voicing for an individual piano. It can be a time consuming task on a higher quality piano, which will generally start with denser felt so that it needs to be replaced less frequently. In many ways, voicing is as much art as science, and as such relies heavily on the taste and experience of the technician.
There is a widespread myth that Japanese pianos have an inherently "bright" or "harsh" sound, compared with their more expensive European and North American counterparts. This is simply not the case. More often than not, this comes down to the piano's voicing being given little, or no attention by the seller. In point of fact, most Yamaha pianos still use the same felt and strings as a Steinway. If a mellow sound is what you want in your piano, we are more than happy to oblige.
Piano Tuning
As with regulation, the tuning of a piano is heavily impacted by changes in atmospheric conditions. As a result of this, it is crucial that a new piano is not merely tuned prior to sale, but left to sit, and retuned in a repeated cycle until the technician can be certain that the tuning will remain stable.
Typically, a piano requires three tunings prior to sale, but sometimes more are necessary, depending on a variety of factors including construction, weather and even the specific cuts of timber used in the instrument. Ultimately, we see it as our responsibility to continue tuning a piano until we can be sure it's going to stick.
Unfortunately, many dealers try to bypass this process by offering to tune the piano in your home, offering the explanation that "moving the piano will put it out of tune". This is absolutely false. However, it is true that piano's tuning will drift a little in the first six months as it acclimatises to your home. 
To remedy this, all pianos sold at Logans include at least one free tuning to be used at any point in the first six months, as part of Yamaha's  Premium Piano Care Program. Grand Pianos pianos may include up to 10 years worth of free tunings, free of charge.
Assuming your piano has been prepared correctly and nothing unexpected happens (flood, fire, pestilence etc.), it should only require scheduled tuning every 6-12 months, and a course of regulation and voicing every few years.
The Logans Difference
A full course of tuning, regulation, and voicing on a new piano runs anywhere from $900 to $1100, depending on the specific instrument. Logans include this service as part of the purchase price on every new piano we sell, free of charge.
All pianos also include free delivery, a matching piano bench, manufacturers warranty, and at least one free tuning after delivery We can also arrange continued maintenance afterwards. The knowledge and experience gained over the past century, ensures a Logans Piano will deliver the best possible performance and the greatest enjoyment for many decades to come.
While many piano sellers advertise tuning and regulation as part of their pre-sale service, most consistently fail to invest the time and resources required to bring them up to standard. This is a fact we are regularly reminded of whenever one of our technicians arrives for a scheduled tuning on a piano purchased from a competitor, and finds that it in need of voicing and regulation, just six months after purchase.
We have found that our satisfied clients often share their Logans experience with students, family, friends. In fact, the majority of people who purchase a piano from us initially chose Logans based on recommendation and reputation. These recommendations depend not just on quality customer service but also on the great performance of our pianos long after they have been delivered. We therefore select and prepare our new pianos very carefully. This more than anything else is what has kept our doors open for almost 100 years.
General
Logans Pianos offers Australia wide shipping on all products on our website and our Burwood store. The vast majority of our orders are eligible for free, or $8.95 flat rate shipping. For more details, see below.
We will always do our best to make your order as fast and easy as possible. In most cases, we will process and ship your order next business day. 
For a variety of reasons, sometimes this is not possible. In these cases, we will always notify you by email or phone of the expected lead time the following business day.
International shipping is available for many of the products on our website using courier shipping. See below for details.
Tracking Your Order
You will always be notified by email or phone once your order has been shipped, and will be able to track it using the provided shipping information here.
Returns
If you are looking for our returns policy, please click here
Delivery Options
Logans are pleased to offer a variety of delivery options to our customers so you can choose the shipping method that best suits your needs.
In most cases, you will receive your order in 2-5 business days from the time of your order, but we ask that you allow up to 14 days for delivery, to account for unexpected delays.
Free & Flat Rate Shipping
Most orders over $100 qualify for free shipping.
orders under $100 are eligible for $8.95 flat rate shipping To NSW, VIC and ACT, or $15 flat rate shipping to all other Australian states.
Small products such as books, strings and small accessories may be sent with Australia post, and may not include a tracking number. If tracking is important to you, please choose courier shipping to ensure you will be able to track your order.
We have send tens of thousands of books and accessories in this manner, and very rarely have issues. If your product arrives damaged, or has not arrived within 14 days, please contact us as soon as possible, and we will replace it free of charge. 
Acoustic Pianos, Digital Pianos with a shipping weight of over 80kg, and other products that require specialist delivery services or installation are not eligible for free or flat rate shipping.
Orders to Western Australia do not qualify for free shipping.
In Store Pickup
Most products can be picked up from our Burwood store. If you choose this option at checkout, please wait for us to confirm your products are ready for pickup before pick it up. 
We are able to arrange curbside pickup/click and collect on customer request.
Courier Shipping
Logans are pleased to offer shipping by the following couriers:
Couriers Please
Fastway
Parcel Point
Quantium
Seko
Sendle
TNT
Toll
UPS
Clipper Parcels (Sydney Only)
In most cases, the fastest, cheapest and best options to your location will appear at checkout, allowing you to choose the courier and rate that best suits your needs. Sometimes, rural and remote and international areas will not calculate shipping. This doesn't mean we can't ship to you, or even that it's going to be particularly expensive. Generally, we recommend you use flat rate shipping in these cases, but if this is not appropriate, or available for you, please contact us, and we will discuss your options with you. 
Digital Pianos Delivery & Setup
Digital Piano delivery and setup is available in the Sydney Metro area for the cost of $150 +$0.30 per stair.
Additional surcharges apply to deliveries outside of the Sydney Metro area, and will need to be scheduled in advance. Please contact us for an obligation free quote.
As you will have to be home to show the carriers where to set up your piano, we will call to schedule your delivery at a time that is convenient for you. 
Acoustic Pianos Delivery
Logans only work with the best speciality piano carriers in the business - Dragon & Goninans. This ensures that your piano will arrive not only undamaged, but in tune & well regulated. Delivery to Sydney metro area is free to ground level, +$50 for each flight of stairs. 
Additional surcharges apply to deliveries outside of the Sydney Metro area, and will need to be scheduled in advance. Please contact us for an obligation free quote, or select "Post-paid Piano Shipping" at checkout, and we will call you the following business day to discuss your shipping options. Note that selecting this option means your shipping costs are not included in the price of your order, and will need to be paid prior to delivery.
As you will have to be home to show the carriers where to place your piano, we will call to schedule your delivery at a time that is convenient for you. 
Pre-Orders & Out Of Stock
Out of stock or new release products will generally be available for pre-order. If you pre-order a product online, we will contact you using the details provided your order to give you an ETA the next business day. For most products, this will add less than a week to the delivery time for your order.
In the case of new release products, or some specialty items, lead times can be up to six months. If you would like to know the ETA of a product before pre-ordering, please contact us by email, phone, or using the chat widget and we will give you an ETA.
In all cases, you can cancel a pre-order for a full refund within 30 days. Standard refund conditions apply. Click here to see our refund policy