Yamaha YSV104 Silent Violin
SKU: YSV104RD
Yamaha Silent Violin
One of the World's Best Selling Solid Body Violins
Natural Weight & Balance
Simple, Intuitive Interface
The YSV104 Silent Violin returns to the original Silent Violin concept as a refined practice instrument that provides an ideal blend of features and playability for violin players.
Even without a resonant body, the SRT POWERED system faithfully reproduces the body resonance, sound and ambience of an acoustic violin. The YSV104 is an excellent choice for all players who want to practice quietly with acoustic violin tone.

The first Silent Violin to feature the Yamaha SRT Powered system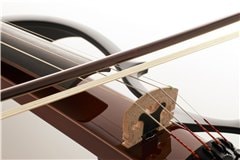 Although the YSV104 is a solid-body instrument that does not resonate like an acoustic violin, the SRT POWERED system faithfully reproduces the rich presence and tonal variety that are appealing characteristics of acoustic violin sound. Left and right channel volume, frequency response, and delay have been carefully optimized so that the performer can play while hearing realistic acoustic tone and resonance via the earphones.
*SRT: Studio Response Technology
Acoustic form makes switching instruments easy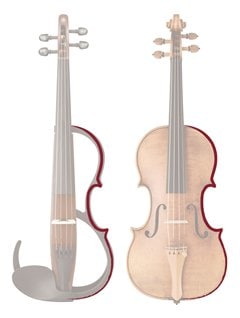 The layout of the bridge, tailpiece, neck, and other parts is the same as an acoustic violin, and the ability to use standard off-the-shelf Bridge-type shoulder rests facilitates a smooth, stress-free transition from acoustic violin to the SILENT Violin and back. Proper bow angle and finger placement give beginners a solid foundation to grow from.
Streamlined control box supports practice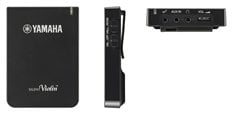 Two reverb modes provide ambience optimized for practice and playing enjoyment. "ROOM" provides realistic room ambience that is ideally suited to practice, while "HALL" simulates the deep, rich reverb of a concert hall for pure playing enjoyment. An external audio source can be connected to the control box for play-along practice.
*The control box is for use with the YSV104 only. It cannot be used with other SILENT Violin models.
Color/Finish

Body

Color

Brown,Black,Red

Size/Weight

Dimensions

Width

206mm

Height

583mm

Depth

111mm

Weight

Weight

Instrument: 490g (1 lbs. 1 oz) / control box: 70g (2.5 oz)

Body

Size

4/4

Body

Spruce

Side/Frame

Plastic

Neck

Maple

Finger Board

Composite

Parts

Bridge

Maple (with built-in pickup)

Tuning Pegs

Ebony

Tailpiece

Synthetic Resin (equipped with fine tuners)

Chin Rest

Plastic

Strings

D'Addario Zyex

Design/Architecture Detail

Pick Up System

Piezo Pickup (Bridge)

Functions

Overall Controls

Master Volume

Yes

Other Control

Sound type switch (Room/Hall)

Storage and Connectivity

Connectivity

AUX IN

Yes (mini jack type)

PHONE OUT

Yes (mini jack type)

Power Supply

Power Supply

AA size 1.5V battery 2pcs.

Battery Life

Alkaline: maximum 29 hrs. Nickel-metal: maximum 24 hrs.

Accessories

Included Accessories

Earphone

Yes

Cable

Cable ×2

Others

Control Box
General
Logans Pianos offers Australia wide shipping on all products on our website and our Burwood store. The vast majority of our orders are eligible for free, or $8.95 flat rate shipping. For more details, see below.
We will always do our best to make your order as fast and easy as possible. In most cases, we will process and ship your order next business day. 
For a variety of reasons, sometimes this is not possible. In these cases, we will always notify you by email or phone of the expected lead time the following business day.
International shipping is available for many of the products on our website using courier shipping. See below for details.
Tracking Your Order
You will always be notified by email or phone once your order has been shipped, and will be able to track it using the provided shipping information here.
Returns
If you are looking for our returns policy, please click here
Delivery Options
Logans are pleased to offer a variety of delivery options to our customers so you can choose the shipping method that best suits your needs.
In most cases, you will receive your order in 2-5 business days from the time of your order, but we ask that you allow up to 14 days for delivery, to account for unexpected delays.
Free & Flat Rate Shipping
Most orders over $100 qualify for free shipping.
orders under $100 are eligible for $8.95 flat rate shipping To NSW, VIC and ACT, or $15 flat rate shipping to all other Australian states.
Small products such as books, strings and small accessories may be sent with Australia post, and may not include a tracking number. If tracking is important to you, please choose courier shipping to ensure you will be able to track your order.
We have send tens of thousands of books and accessories in this manner, and very rarely have issues. If your product arrives damaged, or has not arrived within 14 days, please contact us as soon as possible, and we will replace it free of charge. 
Acoustic Pianos, Digital Pianos with a shipping weight of over 80kg, and other products that require specialist delivery services or installation are not eligible for free or flat rate shipping.
In Store Pickup
Most products can be picked up from our Burwood store. If you choose this option at checkout, please wait for us to confirm your products are ready for pickup before pick it up. 
Courier Shipping
Logans are pleased to offer shipping by the following couriers:
Couriers Please
Fastway
Parcel Point
Quantium
Seko
Sendle
TNT
Toll
UPS
Clipper Parcels (Sydney Only)
In most cases, the fastest, cheapest and best options to your location will appear at checkout, allowing you to choose the courier and rate that best suits your needs. Sometimes, rural and remote and international areas will not calculate shipping. This doesn't mean we can't ship to you, or even that it's going to be particularly expensive. Generally, we recommend you use flat rate shipping in these cases, but if this is not appropriate, or available for you, please contact us, and we will discuss your options with you. 
Digital Pianos Delivery & Setup
Digital Piano delivery and setup is available in the Sydney Metro area for the cost of $150 +$0.30 per stair.
Additional surcharges apply to deliveries outside of the Sydney Metro area, and will need to be scheduled in advance. Please contact us for an obligation free quote.
As you will have to be home to show the carriers where to set up your piano, we will call to schedule your delivery at a time that is convenient for you. 
Acoustic Pianos Delivery
Logans only work with the best speciality piano carriers in the business - Dragon & Goninans. This ensures that your piano will arrive not only undamaged, but in tune & well regulated. Delivery to Sydney metro area is free to ground level, +$50 for each flight of stairs. 
Additional surcharges apply to deliveries outside of the Sydney Metro area, and will need to be scheduled in advance. Please contact us for an obligation free quote, or select "Post-paid Piano Shipping" at checkout, and we will call you the following business day to discuss your shipping options. Note that selecting this option means your shipping costs are not included in the price of your order, and will need to be paid prior to delivery.
As you will have to be home to show the carriers where to place your piano, we will call to schedule your delivery at a time that is convenient for you. 
Pre-Orders & Out Of Stock
Out of stock or new release products will generally be available for pre-order. If you pre-order a product online, we will contact you using the details provided your order to give you an ETA the next business day. For most products, this will add less than a week to the delivery time for your order.
In the case of new release products, or some specialty items, lead times can be up to six months. If you would like to know the ETA of a product before pre-ordering, please contact us by email, phone, or using the chat widget and we will give you an ETA.
In all cases, you can cancel a pre-order for a full refund within 30 days. Standard refund conditions apply. Click here to see our refund policy