Yamaha SLG200N Silent Guitar
SKU: SLG200NNT
Nylon String Silent Guitar
Authentic plugged-in sound by

 

SRT

 

Powered
Super-compact, collapsible construction
Unique, striking looks
Ultra-quiet performance
Slim body like an electric guitar
Variety of functions which make players enjoy without becoming bored
Whenever, wherever
The SLG is the perfect instrument for practice, travel or stage use – any time an acoustic guitar just won't do. Near-silent performance makes discrete practice simple, Yamaha's exclusive SRT-Powered pickup system gives incredibly natural acoustic tone through headphones or line-out, studio-quality on-board effects enhance your playing to perfection, line-in functionality makes jamming easy. Coupled with unique, striking looks and a rosewood and maple framed full-size collapsible body SLG lets you play whenever and wherever inspiration hits.
Inspired by traditional classical guitar design, the SLG200N features a slim neck, thin body, and low action that lets players adopt a more aggressive style, allowing even those players who wouldn't normally choose to perform with a classical guitar to play it with ease.

Sound by SRT Powered
SRT Powered is a new system designed to recreate the body resonance of an acoustic guitar in a bodiless guitar. Yamaha developed SRT Powered, collaborating with recording artists to create a system tailored to the unique properties of the new SLG body and modelled after the tones of a high-end Yamaha acoustic guitar captured using a carefully selected microphone in a professional recording studio environment. By actually reproducing the sound of an acoustic guitar—right down to its natural sustain and decay—Yamaha lets guitarists experience the genuine body resonance, body tone and ambience of an acoustic guitar.
SRT Powered sound can even be mixed with the sound from the instrument's piezo pickups, allowing guitarists to be even more flexible in their creative endeavors.
Because the SLG can virtually reproduce the sound of a guitar recorded with a microphone, players are free from complicated procedures involved in mic-ing up a guitar when recording at home or in other settings.
Playability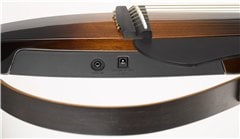 The slim body of the SLG gives these instruments superb playability, and allows players to switch to playing an electric guitar without any discomfort should the need arise.
Design
With the SLG, Yamaha set out to bring a modern feel to the classic contours of a conventional guitar. The distinctive design that emerged is the result of a collaborative effort between the project team and the Yamaha Design Laboratory, and combines traditional guitar lines with an innovative new form unlike that of any guitar before it.
Portability
The detachable top section of SLG's frame means that practicality and portability are way beyond that of a conventional guitar.
The luxury gigbag provided can be carried with ease and fits into an aircraft overhead compartment with room to spare.


Quietness
The bodiless design of the SLG offers a natural, quiet sound that allows guitarists to play without disturbing others, whether practicing late at night or playing in the living room when the family is home. The SLG200S is eighty percent quieter than a conventional acoustic guitar.
Functionality
Connect to an external music player to enjoy music playback, enhance your playing with a range of authentic effects, or plug in headphones to enjoy playing in privacy—the SLG offers a variety of functions that make playing even more enjoyable. What's more, SLG come with a built-in precision chromatic tuner, compatibility with both battery- and AC power, and a range of other user-friendly features.
Durability, Stability
Yamaha's SLG features excellent durability owing to its solid body structure, so users do not have to worry about damaging the instrument when playing live or traveling.
Both the steel string and nylon string models are fitted with a duel action truss rod, allowing both convex and concave bow to be adjusted.
SLG200N

General Specifications

Scale Length

650mm (25 9/16")

Total Length

970mm (38 3/16")

Body Width

356mm (14")

Whole Depth

87mm (3 7/16")

Nut Width

50mm (1 31/32")

String Spacing *

11.5mm

Body Material

Mahogany

Frame Material

Rosewood & Maple

Neck Material

Mahogany

Fingerboard Material

Rosewood

Fingerboard Radius

Flat

Bridge Material

Rosewood

Nut Material

Urea

Saddle Material

Urea

Tuners

RM1188NB-7B

Pickguard

Black

Body Finish

Gloss (Matt for NT color variation)

Neck Finish

Matt

Electronics

SRT Powered System

Controls

Power / Vol / AUX.Vol / Bass / Treble / Smooth Control Effects(Reverb1, Reverb2, Chorus) / Chromatic Tuner / SRT Blend

Connections

Line OUT / AUX IN / Phone Input / DC-IN

Strings

Medium(Yamaha S10)

Accessories

Stereo Earphones / 2 * AA Batteries

Case

Original Carry Bag
General
Logans Pianos offers Australia wide shipping on all products on our website and our Burwood store. The vast majority of our orders are eligible for free, or $8.95 flat rate shipping. For more details, see below.
We will always do our best to make your order as fast and easy as possible. In most cases, we will process and ship your order next business day. 
For a variety of reasons, sometimes this is not possible. In these cases, we will always notify you by email or phone of the expected lead time the following business day.
International shipping is available for many of the products on our website using courier shipping. See below for details.
Tracking Your Order
You will always be notified by email or phone once your order has been shipped, and will be able to track it using the provided shipping information here.
Returns
If you are looking for our returns policy, please click here
Delivery Options
Logans are pleased to offer a variety of delivery options to our customers so you can choose the shipping method that best suits your needs.
In most cases, you will receive your order in 2-5 business days from the time of your order, but we ask that you allow up to 14 days for delivery, to account for unexpected delays.
Free & Flat Rate Shipping
Most orders over $100 qualify for free shipping.
orders under $100 are eligible for $8.95 flat rate shipping To NSW, VIC and ACT, or $15 flat rate shipping to all other Australian states.
Small products such as books, strings and small accessories may be sent with Australia post, and may not include a tracking number. If tracking is important to you, please choose courier shipping to ensure you will be able to track your order.
We have send tens of thousands of books and accessories in this manner, and very rarely have issues. If your product arrives damaged, or has not arrived within 14 days, please contact us as soon as possible, and we will replace it free of charge. 
Acoustic Pianos, Digital Pianos with a shipping weight of over 80kg, and other products that require specialist delivery services or installation are not eligible for free or flat rate shipping.
Orders to Western Australia do not qualify for free shipping.
In Store Pickup
Most products can be picked up from our Burwood store. If you choose this option at checkout, please wait for us to confirm your products are ready for pickup before pick it up. 
We are able to arrange curbside pickup/click and collect on customer request.
Courier Shipping
Logans are pleased to offer shipping by the following couriers:
Couriers Please
Fastway
Parcel Point
Quantium
Seko
Sendle
TNT
Toll
UPS
Clipper Parcels (Sydney Only)
In most cases, the fastest, cheapest and best options to your location will appear at checkout, allowing you to choose the courier and rate that best suits your needs. Sometimes, rural and remote and international areas will not calculate shipping. This doesn't mean we can't ship to you, or even that it's going to be particularly expensive. Generally, we recommend you use flat rate shipping in these cases, but if this is not appropriate, or available for you, please contact us, and we will discuss your options with you. 
Digital Pianos Delivery & Setup
Digital Piano delivery and setup is available in the Sydney Metro area for the cost of $150 +$0.30 per stair.
Additional surcharges apply to deliveries outside of the Sydney Metro area, and will need to be scheduled in advance. Please contact us for an obligation free quote.
As you will have to be home to show the carriers where to set up your piano, we will call to schedule your delivery at a time that is convenient for you. 
Acoustic Pianos Delivery
Logans only work with the best speciality piano carriers in the business - Dragon & Goninans. This ensures that your piano will arrive not only undamaged, but in tune & well regulated. Delivery to Sydney metro area is free to ground level, +$50 for each flight of stairs. 
Additional surcharges apply to deliveries outside of the Sydney Metro area, and will need to be scheduled in advance. Please contact us for an obligation free quote, or select "Post-paid Piano Shipping" at checkout, and we will call you the following business day to discuss your shipping options. Note that selecting this option means your shipping costs are not included in the price of your order, and will need to be paid prior to delivery.
As you will have to be home to show the carriers where to place your piano, we will call to schedule your delivery at a time that is convenient for you. 
Pre-Orders & Out Of Stock
Out of stock or new release products will generally be available for pre-order. If you pre-order a product online, we will contact you using the details provided your order to give you an ETA the next business day. For most products, this will add less than a week to the delivery time for your order.
In the case of new release products, or some specialty items, lead times can be up to six months. If you would like to know the ETA of a product before pre-ordering, please contact us by email, phone, or using the chat widget and we will give you an ETA.
In all cases, you can cancel a pre-order for a full refund within 30 days. Standard refund conditions apply. Click here to see our refund policy