Yamaha SLB300 Silent Bass
SKU: SLB300
Iconic Electric "Stick"Upright Bass

Larger Internal Camber for true acoustic bass resonanceSRT powered system as featured on our Silent Guitar range
3 microphone types to capture the true performance
Compact and transportable

Refined Bass for Any Stage
Since the release of the SLB100 in 2000, Yamaha has continued to release Silent Bass™ models that fulfill user needs, cementing the Yamaha Silent Bass as standout brand in the electric upright bass genre.
The SLB300 delivers realistic acoustic bass sound and playability plus unparalleled Silent Bass functionality in a superb instrument that will bring the Silent Bass to more players and listeners than ever before.
Body Designed for Pure Acoustic Tone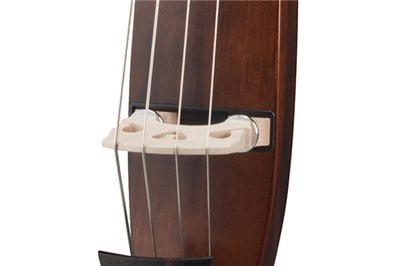 A hollow chamber and side slits help to reproduce natural acoustic resonance while minimizing unamplified volume.
SRT Powered System adds realistic body resonance
The SLB300 Silent Bass™ employs SRT Powered System technology to deliver acoustic instrument sound and response that is virtually indistinguishable from the real thing.
<About the SRT Powered System>
The Yamaha SRT (Studio Response Technology) Powered System is a digital technology that employs in-depth analysis of the acoustic properties of actual musical instruments to add natural-sounding body resonance in real time to instruments such as the Silent Bass™ that do not have a physical resonant body.
This system adds simulated body resonance to the analog signal output from the instrument's pickup so that the performer's own playing technique and nuances are delivered without compromise. No sampling or sample playback is involved.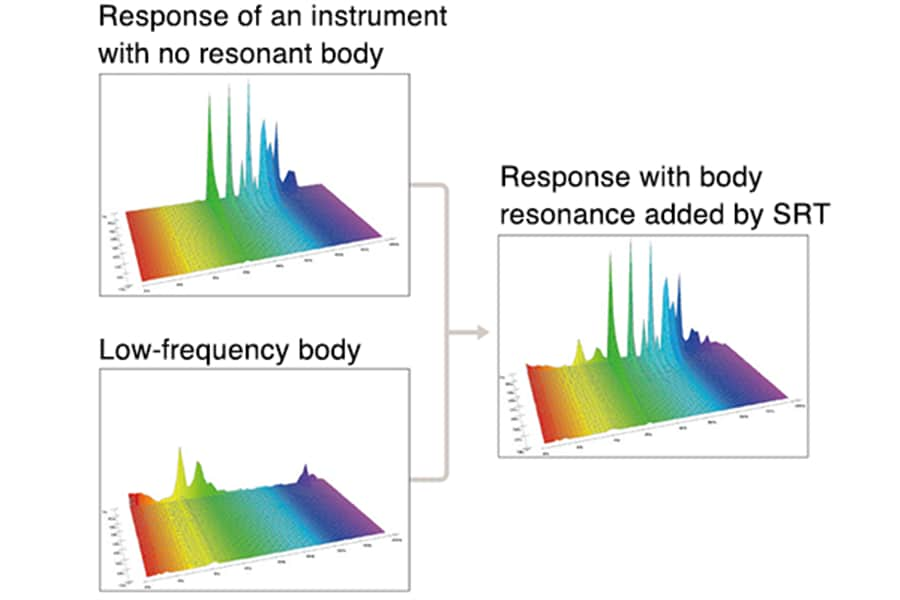 * These graphs are provided to illustrate the effect of the SRT Powered System, and do not represent the system's actual frequency response.
Three microphone types, EQ, and blend control deliver ideal sound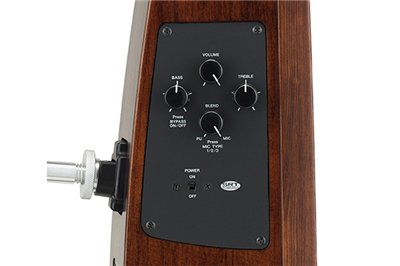 Acoustic body resonance as picked up by three well-known and prized studio microphones is realistically simulated. (SRT Powered System)
The SRT Powered System is used to simulate the response of three well-known and prized studio microphones. The microphones can be selected via the MIC TYPE selector, and the sound adjusted via the BLEND and BASS/TREBLE controls to ideally match a wide range of musical genres, ensembles, performance locations, and more.
Three Microphone Types
1. Rich : A highly valued vintage tube microphone that delivers smooth, well-balanced sound.
2. Simple : A dynamic microphone that is often used for its clear, well-defined sound.
3. Warm : With a different tube microphone character than number 1, this classic microphone is known for a more emphasized low range and overall warmth.
Blend Control
The BLEND control adjusts the mix between the simulated microphone signal and the signal from the instrument's pickup. The blend can be seamlessly adjusted from direct pickup output with no microphone simulation to full microphone simulation when maximum depth and harmonic richness are desired.
EQ Controls (Bass / Treble)
The BASS and TREBLE EQ controls are optimized specifically for this instrument, allowing tonal response to be matched to a wide range of performance situations.
Designed to require no change from standard acoustic bass technique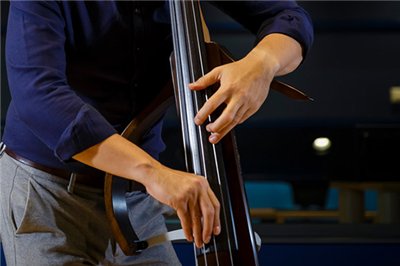 The SLB300 exterior design is inherited from the SLB200. A compact, simplified shape does away with nonessential mass and volume. An acoustic bass shaped frame and a center of gravity designed to minimize rotation further enhance playability, while the bridge, fingerboard, neck and other critical parts are in positions that require no change in hold or playing technique from traditional acoustic basses.
The SLB300 also uses standard contrabass strings, so the user can choose the strings that he or she prefers.
Antique style finish with consistent frame and body color for a natural wood feel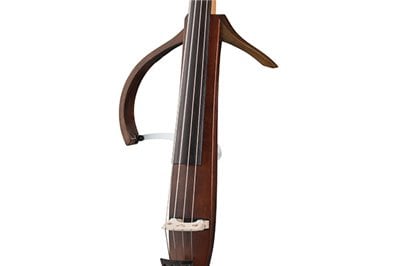 The body and frame feature an antique style finish that emphasizes the qualities of the wood and exudes a natural elegance. The finish will look and feel familiar to acoustic upright bass players.
* The wood grain will be different in each individual instrument.
Supplied soft case for easy transportation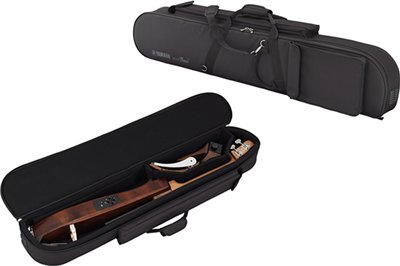 When packed in its dedicated soft case, the SLB300 takes up just approximately 25% of the volume of an acoustic bass.
Easy setup
The SLB300 comes with an optimized pickup system and preamplifier already installed, and can be directly connected to a wide range of equipment without further setup or adjustment.
Size
String Length 1,040mm (41")
Neck
Maple
Body
Spruce/Mahogany
Frame
Beech (Detachable)
Finger Board
Rosewood
Peg
Worm gear type
Tailpiece
Ebony (Reverse Type)
Bridge
Maple (Height Adjustable)
Pickup
Piezo Pickup
Strings
D'Addario Helicore Hybrid Light
Electric Controls
• Volume control knob • Treble control knob • Bass control knob / Bypass button • Blend control knob / Microphone type switch button
In/Out Jacks
Line Out
Power Supply
AA battery (alkali or nickel hydrogen) x 2
Battery Life
Approx. 32 hours


Nickel hydrogen
Approx. 26 hours
Weight
7.2kg (15 lbs. 14 oz)
Accessories
Soft case, Mute, Allen wrench
Logans Pianos is one of Australia's biggest Orchestral String dealers. We have hundreds of Violins, Violas, Cellos, Bows & Accessories in stock. Every one of our instruments is hand selected to ensure optimum value and performance. 
Every instrument purchase from Logans includes a full professional set up by our specialist luthier with more than 20 years experience. This set up includes properly cutting and fitting the bridge to each instrument, peg box set up, adjustment and fitting of soundpost and proper lubrication of pegs, nut, bridge, tailpiece and bow frog. Each instrument is then played and checked for any further adjustments. Proper set up is crucial to ensure maximum playability and performance.
All violins, cellos and violas have factory fittings replaced with quality German strings, German tailpiece and a French bridge to enhance playability and tone.
All instruments receive 1 year free* maintenance from Logans. 
Repairs and ongoing maintenance are available directly through Logans Pianos.
Logans always have a large range of stringed instrument and accessories in stock, including books, bows, strings, cases, rosin and parts. While we try to keep our online stock as accurate as possible, we recommend you Contact Us to ensure your intended purchase is ready for purchase.
*Excludes strings and parts
Please note that due to an enormous surge in online shopping due to the current COVID-19 restrictions, deliveries may take longer than usual. 
Logistics networks across Australia are stretched to breaking point at the moment, so we ask your patience with our staff, and delivery drivers. We're all doing our best to make sure you receive your orders in a safe and timely manner, and to provide up to date information where possible. Trust me, this is just as frustrating for us as it is for you.

-Chris Logan

General
Logans Pianos offers Australia wide shipping on all products on our website and our Burwood store. The vast majority of our orders are eligible for free, or $8.95 flat rate shipping. For more details, see below.
We will always do our best to make your order as fast and easy as possible. In most cases, we will process and ship your order next business day. 
For a variety of reasons, sometimes this is not possible. In these cases, we will always notify you by email or phone of the expected lead time the following business day.
International shipping is available for many of the products on our website using courier shipping. See below for details.
Tracking Your Order
You will always be notified by email or phone once your order has been shipped, and will be able to track it using the provided shipping information here.
Returns
If you are looking for our returns policy, please click here
Delivery Options
Logans are pleased to offer a variety of delivery options to our customers so you can choose the shipping method that best suits your needs.
In most cases, you will receive your order in 2-5 business days from the time of your order, but we ask that you allow up to 14 days for delivery, to account for unexpected delays.
Free & Flat Rate Shipping
Most orders over $199 qualify for free shipping.
orders under $199 are eligible for $8.95 flat rate shipping To NSW, VIC and ACT, or $15 flat rate shipping to all other Australian states.
Small products such as books, strings and small accessories may be sent with Australia post, and may not include a tracking number. If tracking is important to you, please choose courier shipping to ensure you will be able to track your order.
We have send tens of thousands of books and accessories in this manner, and very rarely have issues. If your product arrives damaged, or has not arrived within 14 days, please contact us as soon as possible, and we will replace it free of charge. 
Acoustic Pianos, Digital Pianos with a shipping weight of over 80kg, and other products that require specialist delivery services or installation are not eligible for free or flat rate shipping.
Orders to Western Australia do not qualify for free shipping.
In Store Pickup
Most products can be picked up from our Burwood store. If you choose this option at checkout, please wait for us to confirm your products are ready for pickup before pick it up. 
We are able to arrange curbside pickup/click and collect on customer request.
Courier Shipping
Logans are pleased to offer shipping by the following couriers:
Couriers Please
Fastway
Parcel Point
Quantium
Seko
Sendle
TNT
Toll
UPS
Clipper Parcels (Sydney Only)
In most cases, the fastest, cheapest and best options to your location will appear at checkout, allowing you to choose the courier and rate that best suits your needs. Sometimes, rural and remote and international areas will not calculate shipping. This doesn't mean we can't ship to you, or even that it's going to be particularly expensive. Generally, we recommend you use flat rate shipping in these cases, but if this is not appropriate, or available for you, please contact us, and we will discuss your options with you. 
Digital Pianos Delivery & Setup
Digital Piano delivery and setup is available in the Sydney Metro area for the cost of $150 +$0.30 per stair.
Additional surcharges apply to deliveries outside of the Sydney Metro area, and will need to be scheduled in advance. Please contact us for an obligation free quote.
As you will have to be home to show the carriers where to set up your piano, we will call to schedule your delivery at a time that is convenient for you. 
Acoustic Pianos Delivery
Logans only work with the best speciality piano carriers in the business - Dragon & Goninans. This ensures that your piano will arrive not only undamaged, but in tune & well regulated. Delivery to Sydney metro area is free to ground level, +$50 for each flight of stairs. 
Additional surcharges apply to deliveries outside of the Sydney Metro area, and will need to be scheduled in advance. Please contact us for an obligation free quote, or select "Post-paid Piano Shipping" at checkout, and we will call you the following business day to discuss your shipping options. Note that selecting this option means your shipping costs are not included in the price of your order, and will need to be paid prior to delivery.
As you will have to be home to show the carriers where to place your piano, we will call to schedule your delivery at a time that is convenient for you. 
Pre-Orders & Out Of Stock
Out of stock or new release products will generally be available for pre-order. If you pre-order a product online, we will contact you using the details provided your order to give you an ETA the next business day. For most products, this will add less than a week to the delivery time for your order.
In the case of new release products, or some specialty items, lead times can be up to six months. If you would like to know the ETA of a product before pre-ordering, please contact us by email, phone, or using the chat widget and we will give you an ETA.
In all cases, you can cancel a pre-order for a full refund within 30 days. Standard refund conditions apply. Click here to see our refund policy