Yamaha Reface DX Mini FM Synth
SKU: REFACEDX
Mini FM Synth
4-operator FM Sound Engine
Continuously variable feedback on every operator
Multi-touch controls
2W 3CM STEREO SPEAKER SYSTEM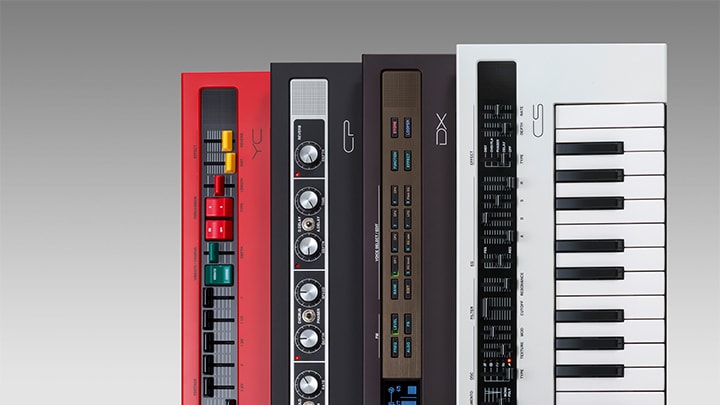 All reface models feature a speaker system designed to "play right now!" The speakers utilize bass-reflex port technology, producing an unbelievably good sound from a compact speaker.
LONG-LASTING BATTERY
Up to 5 hours life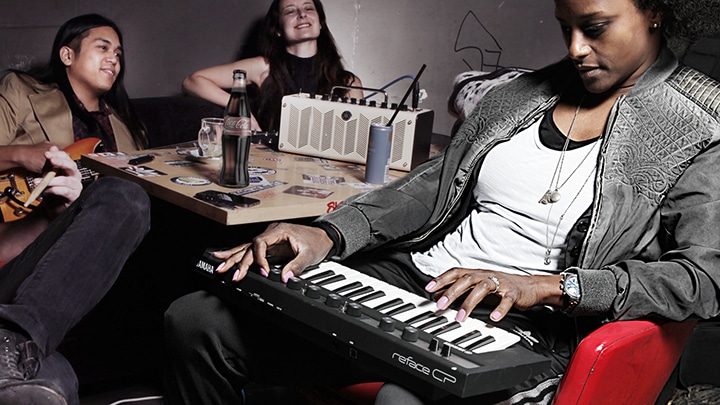 The battery system is perfect for those moments when you're waiting backstage, feeling inspired by the music you hear in the living room or even sitting in the passenger seat on a long road trip. Six "AA" batteries allow up to five hours of continuous performance. The included power supply allows reface to be used without batteries.
NEWLY DEVELOPED HQ-MINI KEYS
HQ (High Quality) Mini Keys provide premium feel and response for fast, accurate and natural playing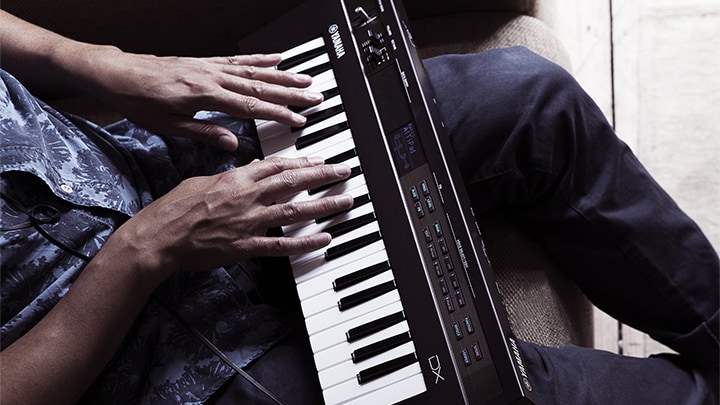 The HQ-MINI keyboard was developed to achieve the best possible playing feel. Its shape is the result of evaluating the acclaimed FS keyboard from our flagship synthesizers and the sturdy, highly durable pianica keyboard. Thanks to the crisp feel of the keys and the smooth playability throughout their entire range, this is a keyboard you'll love playing for a long time. All reface models come with a standard MIDI breakout I/O cable when you want to play reface from a full-size controller keyboard.
A PROFESSIONAL CONNECTOR PANEL
gives you all what you need on the stage or in the studio


The full sonic potential of the tone generator unfolds when connected to a PA system or a pair of high-quality, active speakers via built-in stereo 1/4" outputs. There's also a stereo 1/4" headphone jack and a foot controller input for sustain (reface CP/DX) or expression (reface CS/YC).

You can even monitor through the speakers or headphone jack via a 1/8" AUX IN.

Reface also features USB MIDI and traditional 5-pin DIN MIDI via an included adapter cable.
Amplifiers and Speakers

Amplifiers

2 W x 2

Speakers

3 cm x 2

Power Supply

Power Consumption

6 W (When using PA-130 power adaptor)

Battery Life

Approximately 5 hours

Auto Power Off

Yes

Power Supply

Adaptors

PA-130 or an equivalent recommended by Yamaha

Batteries

Six "AA" size batteries or Ni-MH rechargeable batteries

Accessories

Included

AC adaptor*, MIDI breakout cable, Owner's Manual, Warranty* *May be included depending on your locale

Voices

Number of types

4 Operators, 12 Algorithms

Effects

Distortion/VCM Touch Wah/Chorus/VCM Flanger/VCM Phaser/Delay/Reverb

Number of voices

32 (memorable)

Size/Weight

Dimensions

Width

530 mm (20 7/8")

Height

60 mm (2 3/8")

Depth

175 mm (6 7/8")

Weight

1.9 kg (4 lbs, 3 oz) (not including batteries)

Keyboard

Number of Keys

37 keys

Type

HQ mini (High-Quality mini)

Initial Touch

Yes

Tone generation

Maximum Polyphony

8

Engine

FM

Other Features

Phrase Looper

Yes

Display

Type

-

Connectivity

DC IN

DC IN (12 V) jack

Headphones

PHONES (6.3 mm, stereo phone jack)

MIDI

MIDI (mini-DIN IN/OUT)

AUX IN

AUX IN (3.5 mm, mini stereo phone jack)

OUT PUT

L/MONO, R (6.3 mm, TS phone jack, unbalanced)

USB TO HOST

USB (TO HOST)

Pedal

Type

FOOT CONTROLLER: FC7 (optional) (to adjust the volume)

Half damper

NO (*Half damper's control message can be sent to external device via MIDI)
General
Logans Pianos offers Australia wide shipping on all products on our website and our Burwood store. The vast majority of our orders are eligible for free, or $6.95 flat rate shipping. For more details, see below.
We will always do our best to make your order as fast and easy as possible. In most cases, we will process and ship your order next business day. 
For a variety of reasons, sometimes this is not possible. In these cases, we will always notify you by email or phone of the expected lead time the following business day.
International shipping is available for many of the products on our website using courier shipping. See below for details.
Tracking Your Order
You will always be notified by email or phone once your order has been shipped, and will be able to track it using the provided shipping information here.
Returns
If you are looking for our returns policy, please click here
Delivery Options
Logans are pleased to offer a variety of delivery options to our customers so you can choose the shipping method that best suits your needs.
In most cases, you will receive your order in 2-5 business days from the time of your order, but we ask that you allow up to 14 days for delivery, to account for unexpected delays.
Free & Flat Rate Shipping
Most orders over $100 qualify for free shipping.
Most orders under $100 are eligible for $6.95 flat rate shipping.
Small products such as books, strings and small accessories may be sent with Australia post, and may not include a tracking number. If tracking is important to you, please choose courier shipping to ensure you will be able to track your order.
We have send tens of thousands of books and accessories in this manner, and very rarely have issues. If your product arrives damaged, or has not arrived within 14 days, please contact us as soon as possible, and we will replace it free of charge. 
Acoustic Pianos, Digital Pianos with a shipping weight of over 80kg, and other products that require specialist delivery services or installation are not eligible for free or flat rate shipping.
In Store Pickup
Most products can be picked up from our Burwood store. If you choose this option at checkout, please wait for us to confirm your products are ready for pickup before pick it up. 
Courier Shipping
Logans are pleased to offer shipping by the following couriers:
Couriers Please
Fastway
Parcel Point
Quantium
Seko
Sendle
TNT
Toll
UPS
Clipper Parcels (Sydney Only)
In most cases, the fastest, cheapest and best options to your location will appear at checkout, allowing you to choose the courier and rate that best suits your needs. Sometimes, rural and remote and international areas will not calculate shipping. This doesn't mean we can't ship to you, or even that it's going to be particularly expensive. Generally, we recommend you use flat rate shipping in these cases, but if this is not appropriate, or available for you, please contact us, and we will discuss your options with you. 
Digital Pianos Delivery & Setup
Digital Piano delivery and setup is available in the Sydney Metro area for the cost of $150 +$0.30 per stair.
Additional surcharges apply to deliveries outside of the Sydney Metro area, and will need to be scheduled in advance. Please contact us for an obligation free quote.
As you will have to be home to show the carriers where to set up your piano, we will call to schedule your delivery at a time that is convenient for you. 
Acoustic Pianos Delivery
Logans only work with the best speciality piano carriers in the business - Dragon & Goninans. This ensures that your piano will arrive not only undamaged, but in tune & well regulated. Delivery to Sydney metro area is free to ground level, +$50 for each flight of stairs. 
Additional surcharges apply to deliveries outside of the Sydney Metro area, and will need to be scheduled in advance. Please contact us for an obligation free quote, or select "Post-paid Piano Shipping" at checkout, and we will call you the following business day to discuss your shipping options. Note that selecting this option means your shipping costs are not included in the price of your order, and will need to be paid prior to delivery.
As you will have to be home to show the carriers where to place your piano, we will call to schedule your delivery at a time that is convenient for you. 
Pre-Orders & Out Of Stock
Out of stock or new release products will generally be available for pre-order. If you pre-order a product online, we will contact you using the details provided your order to give you an ETA the next business day. For most products, this will add less than a week to the delivery time for your order.
In the case of new release products, or some specialty items, lead times can be up to six months. If you would like to know the ETA of a product before pre-ordering, please contact us by email, phone, or using the chat widget and we will give you an ETA.
In all cases, you can cancel a pre-order for a full refund within 30 days. Standard refund conditions apply. Click here to see our refund policy