Yamaha PSR-A5000 Arranger Workstation
SKU: PSRA5000
1,161 Voices, including 299 World Music Voices, 44 Oriental Drum Kits, 20 Revo! SFX kits
454 Styles (including 260 World Music Styles, Khaleeji, Shami, Masri, Maghrebi, Persian and Turkish)
Crossfade Portamento with velocity and time related parameters
128 key drum kits with key off note, Upper Octave (-3 - +3)
Style Section Time Signature, Style Section Reset
Live Control knobs, Live Control joystick, Assignable buttons, 7-inch color touch screen, FSB keyboard, Sub output
Scale Tune Setting buttons, Scale Tune Memory buttons
Mic/Guitar input for use when singing or collaborating with other performers
Chord Looper function
Playlist and Registration for quick and easy set-up, Preset Registration
Voice and Style expandability with the Yamaha Expansion Manager
Audio Recording (WAV/MP3)
1 GB (approx.) on-board memory for expansion data, 2 GB (approx.) internal memory
2 USB TO DEVICE terminals
MAKE YOUR SOUND ICONIC
Designed especially for World musicians, the PSR-A5000 becomes an ultimate partner for your greatest live performances and original content production. Explore the new features and get inspired with the new sound.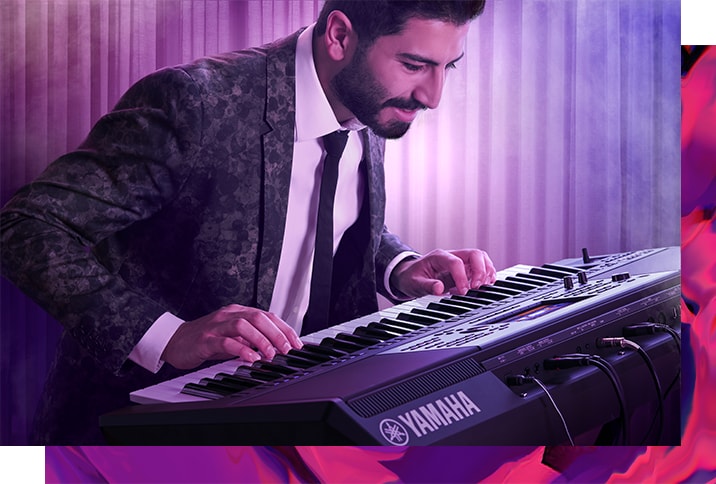 Perform
Make your performances of traditional and modern world music more powerful with newly sampled instruments and 210 fresh Styles. Oud, Qanoon, Nay, and many other Voices sound incredibly realistic thanks to new velocity-sensitive portamento, Super Articulation! Voices, and dedicated world music instrument waveforms that are 10 times larger than in previous model.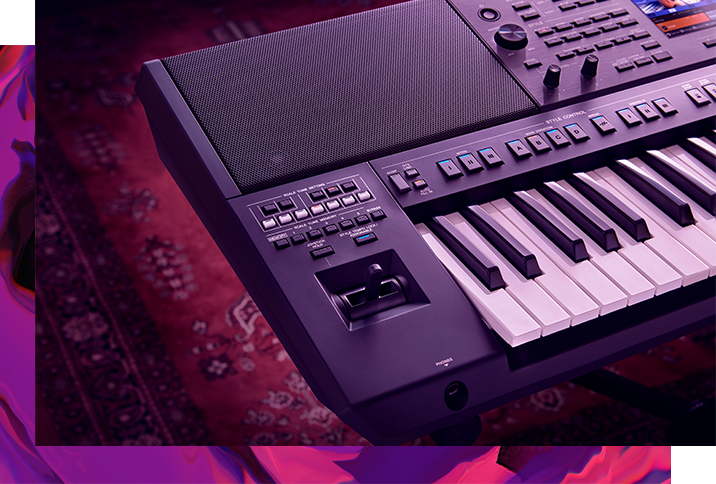 Produce
Program your original Voices and Styles with the PSR-A5000. Expansion memory has been increased to 1 GB (approx.). It allows you to create and store various and higher quality contents. The PSR-A5000 supports Styles with individual time signatures for each variation, which increases your possibilities in Style programming.

FEATURES
Iconic World Music Instruments

Most of important world music instruments have been newly sampled with more attention to detail than ever before. They feature multiple dynamic layers, various new playing Styles and were mixed down in stereo. We provide Revo! SFX kits with Wave Cycling technology. Super Articulation! technology is applied to control the different articulations. Voice content is conveniently categorized for easy access.
New Styles

210 new oriental Styles with richer sound dynamics and more power than ever before. Choose Styles from a variety of genres, such as Khaleeji (36 Styles), Shami (35 Styles), Masri (15 Styles), Maghrebi (50 Styles), Persian (43 Styles), and Turkish (31 Styles). Style Section Time Signatures let you use a range of time signatures within a single Style, which means that you can combine different musical parts. With the Style Section Reset function, you can rewind the rhythm of the Style to beat 1 immediately. This is also helpful when you need to quickly synchronize your performance on stage. Style content is categorized to be convenient for players of oriental music.
Istanbul Strings

Istanbul Strings are one of the most popular strings section in Turkey. Their sound has been recorded innumerable times and can be found on many current music productions, not only in Turkey but also on international records. The PSR-A5000 offers Istanbul Strings samples for the first time in arranger workstation.
Chord Looper

Chord Looper lets you record a chord sequence and play it back, freeing your left hand from playing chords and providing new ways to enhance your performance. Since the chords play back in a loop, you don't need to repeat the chord pattern manually anymore, which lets you focus on your performance and other operations.
Drums and Percussions

Expanded drum kit functionality allows you to play 128 mapped instruments from a single kit. Great care has been taken with drum mapping to provide an optimized, intuitive layout for oriental finger drumming on a keyboard. Thanks to newly added key-off notes, drums and percussion Voices sound very natural and make performance and programming easier. Revo! SFX kits provide more natural drum rolls and enhanced expressiveness.
User Interface

Scale Tune buttons offer easy access during live performances. Individual note pitches can be easily modified and stored as your own new scales to Scale Tune Memories. Assign your favorite function/parameter to Live Control knobs, Joystick, Assignable buttons, Foot Pedals and Home shortcuts. FSB Keyboard offers remarkable playability thanks to its heavier initial key resistance and greater key travel and refined keyboard structure. The 7-inch touch display and new graphic user interface provide for instinctive control over the instrument's powerful features.
New Portamento

Newly added Crossfade Portamento with velocity and time related parameters. Transition speed and velocity of following notes are editable, allowing smooth, expressive transitions between successive notes. Check out "Audio & Video" tab to easily recognize the natural behavior of the instruments achieved with new portamento.
Sub Output

The PSR-A5000 features two sub line-out connections that you can use to adapt your sound to various situations. Try routing bass through a separate subwoofer for a fuller, more powerful bottom end, or send parts and drum instruments to an external console to shape your sound further.
Size/Weight
Width 1,017 mm

Height 139 mm
Depth 431 mm
Weight 11.5 kg
Control Interface
Number of Keys 61

Type Organ (FSB), Initial Touch
Touch Response Normal, Soft 1, Soft 2, Hard 1, Hard 2
Joystick Yes (assignable)

Control Knobs 2 (assignable)
Assignable Buttons 7
Scale Tune Memory Buttons 5
Scale Tune Setting Buttons Yes
Display Type TFT Color Wide VGA LCD
Size 800 x 480 dots (7 inch)
Touch Screen Yes
Colour Colour
Language English, German, French, Spanish, Italian
Panel Language English
Voices
Tone Generating Technology AWM Stereo Sampling

Polyphony 128
Preset Number of Voices 1,161 Voices + 86 Drum/SFX Kits + 480 XG Voices
Featured Voices 219 S.Art!, 25 MegaVoice, 41 Sweet!, 64 Cool!, 91 Live!, 24 OrganFlutes, 20 Revo!SFX (including 299 Oriental Voices, 44 Oriental Drum Kits)
Compatibility & Expandability
XG Yes (for Song playback)
GS Yes (for Song playback)
GM Yes
GM2 Yes
Expansion Voice Yes (approx. 1 GB)

Editing Voice Set
Part Right 1, Right 2, Right 3, Left
Effects
Reverb 59 Preset + 30 User

Chorus 106 Preset + 30 User
DSP 322 Preset (with VCM) + 30 User
Insertion Effect 1-8: 322 Preset (with VCM) + 30 User
Master Compressor 5 Preset + 30 User
Master EQ 5 Preset + 30 User
Part EQ 28 Parts
Others Mic/Guitar effects: Noise Gate, Compressor, 3 Band E
Accompaniment Styles
Number of Preset Styles 454 (including 260 Oriental Styles)

Featured Styles 429 Pro Styles, 15 Session Styles, 10 DJ Styles
Fingering Single Finger, Multi Finger, Fingered, Fingered On Bass, Full Keyboard, AI Fingered, AI Full Keyboard
Style Control INTRO x 3, MAIN VARIATION x 4, FILL IN x 4, BREAK, ENDING x 3
One Touch Setting (OTS) 4 for each Style

Chord Looper Yes
Style Section Reset Yes
Style Section Change Timing Yes
Style Section Time Signature Yes
Expansion Audio Style Yes (Internal Memory)

Compatibility Style File Format, Style File Format GE
Songs
Number of Preset Songs 3 Sample Songs

Number of Songs Unlimited (depends on the drive capacity)

Number of Tracks 16
Data Capacity Approx. 3 MB per Song
Recording Function Quick Recording, Multi Track Recording, Step Recording
Playback SMF (Format 0 & 1), XF

Recording SMF (Format 0)
Multi Pads
Number of Multi Pad Banks 257 Banks x 4 Pads
Audio Link Yes

Functions
Number of Buttons 8

Control Registration Sequence, Freeze
Playlist Number of Records 2,500 (max.) Records per Playlist file
Guide Follow Lights, Any Key, Karao-Key, Your Tempo
Search Yes
Demo Yes
Metronome Yes

Tempo Range 5 - 500, Tap Tempo
Transpose -12 – 0 – +12
Tuning 414.8 – 440 – 466.8 H
Octave Button -3 – 0 – +3
Scale Type 12 types
Sub Scale Setting Yes
Scale Tune Memory 5
Direct Access Yes
Text Display Function Yes
Wallpaper Customization Yes
Harmony/Echo Yes

Arpeggio Yes
Panel Sustain Yes
Mono/Poly Yes
Style Creator Yes
OTS Information Yes
Score Display Function Yes
Lyrics Display Function Yes
Song Creator Yes
Multi Pad Creator Yes

Recording Time (max.) Approx. 0.8 GB (80 minutes) per Song

Recording WAV (44.1 kHz, 16 bit, stereo), MP3 (44.1 kHz, 128/256/320 kbps, stereo)
Playback WAV (44.1 kHz, 16 bit, stereo), MP3 (44.1/48.0 kHz, 64–320 kbps and VBR, mono/stereo)
Lyrics Display Function Yes (.mp3 only)
Time Stretch Yes
Pitch Shift Yes
Vocal Cancel Yes
Storage and Connectivity
Internal Memory Yes (approx. 2 GB)

External Drives USB flash drive
Headphones Standard stereo phone jack
FOOT PEDAL 2 (Assignable)
Microphone Microphone/Guitar
MIDI IN, OUT
AUX IN Stereo mini jack
LINE OUT MAIN OUTPUT (L/L+R, R), SUB (AUX) OUTPUT (1,2 (L/L+R, R))
USB TO DEVICE Yes (x 2)
USB TO HOST Yes
Amplifiers and Speakers
Amplifiers 15 W x 2
Speakers 13 cm x 2 + 5 cm x 2
Power Supply PA-300C or an equivalent recommended by Yamaha
Power Consumption 24 W

Auto Power Off Function Yes
Accessories
Included Accessories Owner's Manual, Online Member Product Registration, Music Rest, AC Adaptor (May not be included depending on your area. Check with your Yamaha dealer.)
General
Logans Pianos offers Australia wide shipping on all products on our website and our Burwood store. The vast majority of our orders are eligible for free, or $8.95 flat rate shipping. For more details, see below.
We will always do our best to make your order as fast and easy as possible. In most cases, we will process and ship your order next business day. 
For a variety of reasons, sometimes this is not possible. In these cases, we will always notify you by email or phone of the expected lead time the following business day.
International shipping is available for many of the products on our website using courier shipping. See below for details.
Tracking Your Order
You will always be notified by email or phone once your order has been shipped, and will be able to track it using the provided shipping information here.
Returns
If you are looking for our returns policy, please click here
Delivery Options
Logans are pleased to offer a variety of delivery options to our customers so you can choose the shipping method that best suits your needs.
In most cases, you will receive your order in 2-5 business days from the time of your order, but we ask that you allow up to 14 days for delivery, to account for unexpected delays.
Free & Flat Rate Shipping
Most orders over $100 qualify for free shipping.
orders under $100 are eligible for $8.95 flat rate shipping To NSW, VIC and ACT, or $15 flat rate shipping to all other Australian states.
Small products such as books, strings and small accessories may be sent with Australia post, and may not include a tracking number. If tracking is important to you, please choose courier shipping to ensure you will be able to track your order.
We have send tens of thousands of books and accessories in this manner, and very rarely have issues. If your product arrives damaged, or has not arrived within 14 days, please contact us as soon as possible, and we will replace it free of charge. 
Acoustic Pianos, Digital Pianos with a shipping weight of over 80kg, and other products that require specialist delivery services or installation are not eligible for free or flat rate shipping.
Orders to Western Australia do not qualify for free shipping.
In Store Pickup
Most products can be picked up from our Burwood store. If you choose this option at checkout, please wait for us to confirm your products are ready for pickup before pick it up. 
We are able to arrange curbside pickup/click and collect on customer request.
Courier Shipping
Logans are pleased to offer shipping by the following couriers:
Couriers Please
Fastway
Parcel Point
Quantium
Seko
Sendle
TNT
Toll
UPS
Clipper Parcels (Sydney Only)
In most cases, the fastest, cheapest and best options to your location will appear at checkout, allowing you to choose the courier and rate that best suits your needs. Sometimes, rural and remote and international areas will not calculate shipping. This doesn't mean we can't ship to you, or even that it's going to be particularly expensive. Generally, we recommend you use flat rate shipping in these cases, but if this is not appropriate, or available for you, please contact us, and we will discuss your options with you. 
Digital Pianos Delivery & Setup
Digital Piano delivery and setup is available in the Sydney Metro area for the cost of $150 +$0.30 per stair.
Additional surcharges apply to deliveries outside of the Sydney Metro area, and will need to be scheduled in advance. Please contact us for an obligation free quote.
As you will have to be home to show the carriers where to set up your piano, we will call to schedule your delivery at a time that is convenient for you. 
Acoustic Pianos Delivery
Logans only work with the best speciality piano carriers in the business - Dragon & Goninans. This ensures that your piano will arrive not only undamaged, but in tune & well regulated. Delivery to Sydney metro area is free to ground level, +$50 for each flight of stairs. 
Additional surcharges apply to deliveries outside of the Sydney Metro area, and will need to be scheduled in advance. Please contact us for an obligation free quote, or select "Post-paid Piano Shipping" at checkout, and we will call you the following business day to discuss your shipping options. Note that selecting this option means your shipping costs are not included in the price of your order, and will need to be paid prior to delivery.
As you will have to be home to show the carriers where to place your piano, we will call to schedule your delivery at a time that is convenient for you. 
Pre-Orders & Out Of Stock
Out of stock or new release products will generally be available for pre-order. If you pre-order a product online, we will contact you using the details provided your order to give you an ETA the next business day. For most products, this will add less than a week to the delivery time for your order.
In the case of new release products, or some specialty items, lead times can be up to six months. If you would like to know the ETA of a product before pre-ordering, please contact us by email, phone, or using the chat widget and we will give you an ETA.
In all cases, you can cancel a pre-order for a full refund within 30 days. Standard refund conditions apply. Click here to see our refund policy