Yamaha AvantGrand NU1X
SKU: NU1X
The superb natural feel of a real piano action 
CFX and Bösendorfer Imperial piano samples
CFX Binaural sampling
VRM (Virtual Resonance Modeling)
GP Response Damper Pedal
Alluring elegance that complements any room
USB Audio Recorder
Built-in Bluetooth for wireless connection to Smart Device
The superb natural feel of a real piano action
The NU1X represents the next evolution in hybrid piano technology melding the Yamaha pedigree of unparalled piano craft with progressive digital innovation. Employing a real acoustic upright piano action that intuitively connects player and piano, the NU1X offers a gratifying dynamic experience. The result is an instrument that not only pays tribute to its acoustic counterpart but exceeds all expectations.
Legendary Piano Samples

To play an AvantGrand means access to the actual sound profile of two legendary concert grands: the Yamaha CFX and the Bösendorfer Imperial. Whether you prefer the bold, expansive palette of the CFX, or the warm, rich Vienna tones of the Imperial, switching between the two is simple.
The authentic feel of a grand piano pedal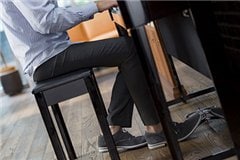 The NU1X features a damper pedal that recreates the subtle changes in resistance experienced when using a grand piano pedal. What's more, the NU1X's damper pedal allows you to use the same half-pedal techniques that you would with a grand piano, offering detailed control over sustain and reverberation.
A fully immersive headphone experience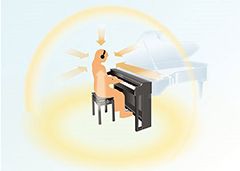 Headphone connectivity wasn't just an added formality for the NU1X. Thanks to our advanced binaural sampling technology, the sound you hear through your headphones is remarkably lifelike. This technology uses piano samples recorded by specialized microphones that capture locational information and other nuances discerned by the human ear. The resulting sound is so natural, so enveloping, that you'll soon forget you're even wearing headphones at all. (CFX Grand Voice only)
An elegant complement to any room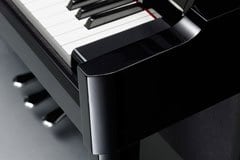 The elegant simplicity of the NU1X blends effortlessly into any setting, adding an air of distinction without being imposing. Inheriting the superb sound and playability of the AvantGrand series of pianos, the NU1X offers the warmth and natural presence of an acoustic instrument in a stylish, compact form.
Intelligent UX and Integration
Behind its simple control panel, the NU1X hosts an abundance of connectivity options for maximum functionality and integration with external devices. It can be connected directly to computers and mobile devices via USB, sound and recording systems via audio cables, act as a Bluetooth receiver, and integrate with iOS apps via WiFi.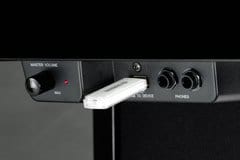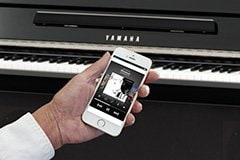 Get more with the Smart Pianist App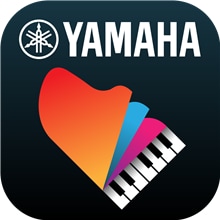 Enjoy the piano more with Smart Pianist, a dedicated app that adds a beautiful graphic interface and a variety of incredible features to your compatible Yamaha Hybrid piano.
Other Feature of Firmware V2.0
Now compatible with USB Audio/MIDI. Just connect with a single USB cable for audio/MIDI playback with a PC or iOS device.
This allows you to record to, for example, Steinberg Cubase series products as audio or MIDI, without purchasing an Audio/MIDI interface separately.
*Cubase series software is not bundled with this firmware, and must be purchased separately.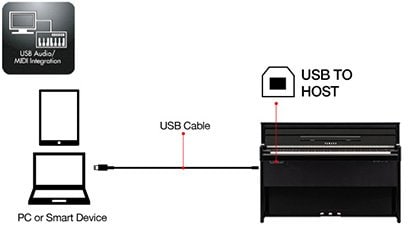 NU1X

Color/Finish

Cabinet

Color

Polished Ebony

Finish

Polished

Size/Weight

Dimensions

Width

1,501 mm (59-1/8")

Height

1,024 mm (40-5/16")

Depth

463 mm (18-1/4")

Weight

Weight

111 kg (240 lb, 11 oz)

Control Interface

Keyboard

Number of Keys

88

Key Surfaces - White

Acrylic resin

Touch Sensitivity

Hard/Medium/Soft/Fixed

Keyboard Action

Specialized Upright Piano Action for NU1X

Tactile Response System (TRS)

-

Pedal

Type

GP Responsive Damper Pedal

Number of Pedals

3

Half Pedal

Yes

Functions

Damper (with half-pedal effect) , Sostenuto,Soft

Sensor/Driver

Hammer Sensors

-

Key Sensors

Non-contact optical fiber

Cabinet

Key Cover

Soft-Close Fallboard

Yes

Music Rest

Yes

Voices

Tone Generation

Piano Sound

CFX/Bösendorfer Imperial Sampling

Binaural Sampling

Yes (CFX Grand Voice only)

Key-off Samples

Yes

Smooth Release

Yes

VRM

Yes

Polyphony

Number of Polyphony (Max.)

256

Preset

Number of Voices

15

Effects

Types

Reverb

Yes

Brilliance

-

Intelligent Acoustic Control (IAC)

Yes

Stereophonic Optimizer

Yes

Songs

Preset

Number of Preset Songs

50 Classics, 15 voice demo songs

Recording

Number of Songs

10

Number of Tracks

1

Data Capacity

approx. 550 KB/Song

Recording Function

Yes

Compatible Data Format

Playback

SMF (Format 0, 1)

Recording

SMF (Format 0)

Functions

Overall Controls

Metronome

Yes

Tempo Range

5 - 500

Transpose

-6 - 0 - +6

Tuning

414.8 – 440.0 – 466.8 Hz (approx. 0.2 Hz increments)

Scale Type

7 types

Audio Recorder/Player

Recording Time (max.)

80 minutes/Song

Recording

WAV (44.1 kHz, 16 bit, stereo)

Playback

WAV (44.1 kHz, 16 bit, stereo)

Storage and Connectivity

Storage

Internal Memory

approx. 1.5 MB

External Drives

USB Flash Drive

Connectivity

Headphones

Standard stereo phone jack (x 2)

MIDI

In/Out

AUX IN

Stereo Mini

AUX OUT

[L/L+R] [R] (Standard stereo phone jack)

OUTPUT

-

USB TO DEVICE

Yes

USB TO HOST

Yes

Power Supply

Auto Power Off

Yes

Power Supply

AC Inlet

Sound System

Spatial Acoustic Speaker System

-

Soundboard Resonator

-

Amplifiers

(45 W + 45 W) x 2

Speakers

(16 cm + 1.9 cm) x 2

Acoustic Optimizer

Yes
Please note that due to an enormous surge in online shopping due to the current COVID-19 restrictions, deliveries may take longer than usual. 
Logistics networks across Australia are stretched to breaking point at the moment, so we ask your patience with our staff, and delivery drivers. We're all doing our best to make sure you receive your orders in a safe and timely manner, and to provide up to date information where possible. Trust me, this is just as frustrating for us as it is for you.

-Chris Logan

General
Logans Pianos offers Australia wide shipping on all products on our website and our Burwood store. The vast majority of our orders are eligible for free, or $8.95 flat rate shipping. For more details, see below.
We will always do our best to make your order as fast and easy as possible. In most cases, we will process and ship your order next business day. 
For a variety of reasons, sometimes this is not possible. In these cases, we will always notify you by email or phone of the expected lead time the following business day.
International shipping is available for many of the products on our website using courier shipping. See below for details.
Tracking Your Order
You will always be notified by email or phone once your order has been shipped, and will be able to track it using the provided shipping information here.
Returns
If you are looking for our returns policy, please click here
Delivery Options
Logans are pleased to offer a variety of delivery options to our customers so you can choose the shipping method that best suits your needs.
In most cases, you will receive your order in 2-5 business days from the time of your order, but we ask that you allow up to 14 days for delivery, to account for unexpected delays.
Free & Flat Rate Shipping
Most orders over $199 qualify for free shipping.
orders under $199 are eligible for $8.95 flat rate shipping To NSW, VIC and ACT, or $15 flat rate shipping to all other Australian states.
Small products such as books, strings and small accessories may be sent with Australia post, and may not include a tracking number. If tracking is important to you, please choose courier shipping to ensure you will be able to track your order.
We have send tens of thousands of books and accessories in this manner, and very rarely have issues. If your product arrives damaged, or has not arrived within 14 days, please contact us as soon as possible, and we will replace it free of charge. 
Acoustic Pianos, Digital Pianos with a shipping weight of over 80kg, and other products that require specialist delivery services or installation are not eligible for free or flat rate shipping.
Orders to Western Australia do not qualify for free shipping.
In Store Pickup
Most products can be picked up from our Burwood store. If you choose this option at checkout, please wait for us to confirm your products are ready for pickup before pick it up. 
We are able to arrange curbside pickup/click and collect on customer request.
Courier Shipping
Logans are pleased to offer shipping by the following couriers:
Couriers Please
Fastway
Parcel Point
Quantium
Seko
Sendle
TNT
Toll
UPS
Clipper Parcels (Sydney Only)
In most cases, the fastest, cheapest and best options to your location will appear at checkout, allowing you to choose the courier and rate that best suits your needs. Sometimes, rural and remote and international areas will not calculate shipping. This doesn't mean we can't ship to you, or even that it's going to be particularly expensive. Generally, we recommend you use flat rate shipping in these cases, but if this is not appropriate, or available for you, please contact us, and we will discuss your options with you. 
Digital Pianos Delivery & Setup
Digital Piano delivery and setup is available in the Sydney Metro area for the cost of $150 +$0.30 per stair.
Additional surcharges apply to deliveries outside of the Sydney Metro area, and will need to be scheduled in advance. Please contact us for an obligation free quote.
As you will have to be home to show the carriers where to set up your piano, we will call to schedule your delivery at a time that is convenient for you. 
Acoustic Pianos Delivery
Logans only work with the best speciality piano carriers in the business - Dragon & Goninans. This ensures that your piano will arrive not only undamaged, but in tune & well regulated. Delivery to Sydney metro area is free to ground level, +$50 for each flight of stairs. 
Additional surcharges apply to deliveries outside of the Sydney Metro area, and will need to be scheduled in advance. Please contact us for an obligation free quote, or select "Post-paid Piano Shipping" at checkout, and we will call you the following business day to discuss your shipping options. Note that selecting this option means your shipping costs are not included in the price of your order, and will need to be paid prior to delivery.
As you will have to be home to show the carriers where to place your piano, we will call to schedule your delivery at a time that is convenient for you. 
Pre-Orders & Out Of Stock
Out of stock or new release products will generally be available for pre-order. If you pre-order a product online, we will contact you using the details provided your order to give you an ETA the next business day. For most products, this will add less than a week to the delivery time for your order.
In the case of new release products, or some specialty items, lead times can be up to six months. If you would like to know the ETA of a product before pre-ordering, please contact us by email, phone, or using the chat widget and we will give you an ETA.
In all cases, you can cancel a pre-order for a full refund within 30 days. Standard refund conditions apply. Click here to see our refund policy