Yamaha C6X Grand Piano
SKU: C6XPE
Includes FREE piano pack including:
Fitted Yamaha piano cover

Metronome

Unicorn Piano Polish

Yamaha & Logans 50th anniversary Commemorative Clock
A powerful, forceful presence, CX Series pianos possess a wealth of reverberation, taking in the nuances of a player's intentions and reflecting them in the depth and projection of the music itself.
At 212cm, the C6X features one of the most popular scale designs in the grand piano market. It is known for it's beautiful round tone, more similar to that of European grand pianos. A excellent piano for both classical and jazz players.
Most people purchasing pianos in this price range have definite ideas of how they want their piano to sound, feel and respond. This is often reflected in their playing style and music preferences. We urge customers to spend a few hours in our grand piano showroom to thoroughly compare all models.
THE PERFECT PARTNER FOR BRINGING OUT THE MUSIC INSIDE
A grand piano must perfectly reproduce the sound that the pianist hears in his or her head. The exquisite craftsmanship behind Yamaha's grand pianos has matured over more than a century, yet even now, it continues to evolve in order to satisfy this need.
THE ESSENCE OF THE EXQUISITELY RESONANT PIANO
Today's grand pianos are built from a staggering array of greatly different components, and in designing this instrument, we focus on how best to craft its physical form to resonate perfectly in every possible situation, unaffected by, for example, the unique characteristics of natural materials such as wood and felt or changes in temperature and other weather conditions. The success of the developers is measured in terms of how well the grand piano becomes one with the pianist.
PASSION INFUSED INTO EVERY DETAIL
As with pianists, every piano has its own unique personality. The musicality of each instrument comes from a perfect harmony of time-honored, finely-honed craftsmanship and cutting edge production techniques that guarantee precision and accuracy. The passion and devotion of the many expert artisans involved in its crafting are distilled into the soul of the Yamaha grand piano.
FINDING THE INSTRUMENT WITH WHICH YOU BECOME ONE
No photography—no matter how glossy or well taken the photograph—can convey the tone and resonance of a carefully finished Yamaha grand piano. We truly hope that through your fingers, your ears, and every other part of your bod, you can fully savor the character we have breathed into each individual part of this remarkable instrument.
THE LEGACY OF THE CFX CONTINUES
Preserving tradition is not the same thing as refusing to change; rather, it is from the ongoing search for perfection that traditions emerge. And when it comes to the tradition of crafting a grand piano, there is a sound, a tone to which only those who strive constantly to outdo themselves can aspire. For almost half a century, Yamaha's world-renowned C Series grand pianos have continued through a gradual process of refinement The CFX full concert grand piano built on the knowledge, techniques, and experience gained during this long period, with craftsmen pouring everything they knew into the creation of an instrument that took bold new steps in piano design, seeking to attain sonic perfection. The CX Series extends this work further, providing a clear sound with a clean attack, sparkling tone, and transparent harmonies, all encased in an elegant, flowing form.
The end result is a series of instruments that is refined in tone, yet bold in design, the product of a dedication to innovation that allows Yamaha to remain true to its musical heritage. CX Series pianos represent progress that is commensurate with Yamaha's 125th anniversary year - progress that will transform any room in which you play into a concert hall.
CX SERIES PIANOS FEATURE A THICKENED BACK FRAME FOR IMPROVED SUPPORT, PROVIDING A RICH, RESONANT TONE.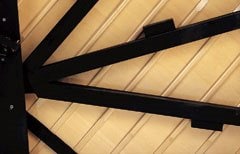 One of the most important factors in achieving a rich tone is the support provided within the instrument. When playing powerful fortissimo the force exerted on the instrument causes it to bend slightly, losing energy. The part of the piano that accepts this force and transforms it into deep reverberation is called the back frame, which could be likened to the skeleton in a human body. On the C3X for example, this back frame is approximately 20% thicker than on other pianos, providing significantly improved support, and reflecting the considerations on which the CX Series has been completely redesigned.
THE NEW SOUNDBOARD RESONATES WITH THE EMOTIONS OF THE PERFORMER.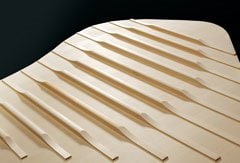 A violin is built around a beautiful body with three-dimensional swellings and a delicately curved shape, which is similar to the three dimensional concave design in a piano soundboard called the "crown." The manufacture of this crown is pivotal to the crafting of any piano, and is thus of paramount importance to piano engineers in addressing the problem of how to transmit the vibrations of the strings from the soundboard into the surrounding air efficiently. Yamaha has taken experience accumulated through many years of crafting pianos and combined it with unsurpassed engineering ability to ensure that the soundboard always provides superb projection. The resulting design capitalizes on physical phenomena unique to the craft of piano-making, to create a soundboard assembly with a structure that allows it to vibrate easily, something that would not have been possible without the deep understanding of the traditional art of piano crafting that goes hand-in-hand with Yamaha's experience and engineering know-how. The same techniques developed for gluing the soundboard, ribs, and bridge in the CFX are used for the C3X and above—models which require a great deal of projection—and the process of installing the resulting soundboard assembly into the piano body has been investigated carefully. This has resulted in dramatically improved projection and the unprecedented response that performers demand.
REVOLUTIONARY NEW MUSIC WIRE OFFERS BEAUTIFUL SUSTAIN AND HARMONY.
It is music wire that actually creates sound of a piano. While affected by its matching with the hammers, soundboard and body of the piano, music wire has a profound effect on the timbre and sustain of the instrument. The CX Series utilizes music wire that produces a rich sound with a full complexity of overtones in its middle and upper registers. Coupled with the support from a solid foundation, this gives CX Series pianos a rich, harmonic sound.
EXPERTISE IN FRAME MAKING SHINES THROUGH IN ROBUST QUALITY.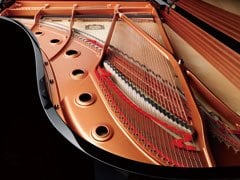 The frame in a modern piano must be able to withstand a total string tension in excess of twenty tons; not only does the frame work together with the wooden body to support the string tension, but it has a profound effect on the instrument's sound. Yamaha makes its own frames, relying on a method of casting referred to as the "vacuum process," developed over many years to create some of the best piano frames in the world. During this time we have built up a storehouse of knowledge on factors such as the manner in which controlling the temperature and composition of casting, and even the coating used on the frame itself, affects the acoustic characteristics of the piano. This is a major reason that Yamaha is able to ensure reliable quality when crafting our pianos.
HAMMERS BASED ON THOSE OF THE CFX SERIES.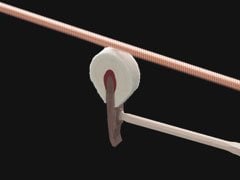 Great hammers are essential to producing a beautifully expressive, malleable sound. Yamaha, unlike most other piano manufacturers, produces most of its own high-quality components, and is constantly looking for new ways to use the abilities developed through doing so to give our piano hammers tonality, resilience, and power. The CX Series has also benefitted from the results of this research and development, and utilizes the same felt as the CFX, adjusted to match the size of each instrument in the series. This ensures that all CX Series pianos possess a clear range of tonal colors and a nuanced, expressive sound.

VOICING AND REGULATION BREATHES LIFE INTO THE PIANO.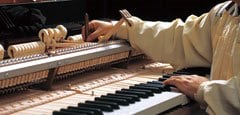 Pianos offer pianists only a limited amount of freedom; indeed, apart from the pedals, the pianist's scope for expression is limited to the 10 mm travel of each of the 88 keys on the keyboard. Even so, the combination of the pedals with the speed and velocity applied to the keys produces a range of tonal changes so broad that they cannot be reproduced with current digital technology. This is the true soul of an acoustic instrument, allowing the pianist to obtain an incredible amount of expression from just 10 mm of key travel.That is precisely why Yamaha devotes so much time voicing their pianos so that the intentions of the pianist are conveyed to the strings. In regulation, a craftsman adjusts the movement of the action so that it accurately transmits every nuance of the pianist's touch. In voicing, the hammers, which cause the strings to emit sound, are pricked with a pick to create a balanced tone that will respond beautifully when played. Even today, in an era when technology continues to evolve rapidly, these tasks remain the domain of skilled craftsmen who must ensure the high quality of these instruments, and are the main reason that Yamaha has remained one of the top piano makers in the world.
A DESIGN THAT UNIFIES PIANO WITH PIANIST, INHERITING THE LEGACY OF THE CF SERIES.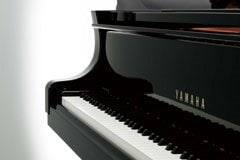 CX Series pianos feature a completely revamped design. Following in the footsteps of the CF Series concert grand, the CX Series design features simple, elegant lines, focusing on the characteristic legs of the piano in doing away with any excess ornamentation. This elegance is set off by a solid pedal box that allows performers to depress the pedals with as much power as they want, one aspect of a philosophy epitomizing "functional design" that allows pianists to become one with their instrument as they play. In order to provide the best playability possible, CX Series grand pianos offer white keys made of Ivorite™, which has a feel, color, and absorbency very similar to natural ivory, while natural ebony has been used for the black keys.
LID PROP SAFETY STOP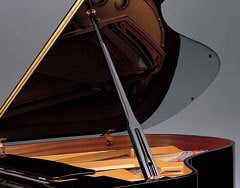 The CX Series is equipped with a lid prop stopper to prevent your fingers from being caught when the piano lid closes unexpectedly.
MORE INFORMATION
DIMENSIONS
Width 154 cm (61")
Height 102 cm (40 1/2")
Depth 212 cm (7')
Weight 405 kg (893 lbs)
KEYBOARD
Number of Keys 88
Keyboard Action Made by Yamaha
Key Surfaces - White Ivorite
Key Surfaces - Black WPC
Hammer CX Series Special
Pedal Damper/Sostenuto/Shift
Caster Double Caster
Lid Prop Safety Stop Yes
Lid/Fallboard Locks Yes
Soft-Close Fallboard Yes
Frame V-pro
Back Post Number 4
"We want our clients to have peace of mind with a finished and performance-ready piano of superb quality. We do not cut corners, and we will never settle for anything less than getting the best out of every piano we sell." - Geoff Logan
Why Buy Your Piano From Logans?
Anyone can tell you they provide great service, but can they prove it? Logans Pianos have been in the piano business for almost a century, and in that time we've provided pianos for some of the most important performers and institutions in the music industry. Our long history as Sydney's most trusted name in pianos bears testament to the fact the we are the best in the business, and we have the evidence to back that claim up.
Now with four generations of experience, we have the expertise to ensure that a piano from Logans will deliver the best possible performance and the greatest enjoyment for many decades to come.
All pianos purchased from Logans come with a minimum of $1250 worth of extras, including:
Minimum three courses of tuning, regulation & voicing
10 Year Warranty, and free after sale care
Delivery to ground level
Matching Yamaha piano bench
Limited Time offer: 50th anniversary pack, including fitted piano cover, metronome, piano polish & commemorative clock with Logans and Yamaha logos. 
What is Piano Regulation?
Production schedules in factories only allow for a certain amount of time to be spent on each piano. Additionally, pianos are shipped in vacuum sealed environments, and moving parts shift slightly as they adjust to their new environment. Adjustments made by a piano technician to an instrument's keys and action to compensate for these shifts is referred to as "regulation".
All new pianos before leaving their factory are tuned and regulated. Piano components including wood, felt, and doeskin have a tendency to "bed down" and change in thickness for some time, thus altering the regulation and performance of the piano. All manufacturers fundamentally insist that their new pianos be regulated again before being sold.
Today, piano regulation is a dying art, and Logans are one of very few piano shops in Australia that still perform a full course of regulation as part of every sale. A large percentage of pianos sold in Australia receive no more than a single tuning at this most important stage in their lives - a fact even Yamaha Australia have tactely acknowleged in labelling Logans Pianos the only Yamaha Piano Authorised Sales and Service Centre in NSW.
Why is Regulation Important?
Piano regulation is vital to ensuring a long and healthy life for any piano, whether it's a $6000 upright or a $500 000 Concert Grand. The minute adjustments made by a piano technician prevent vital moving parts for rubbing together and wearing prematurely, and ensures a clear, even volume by ensuring the action is balanced across all 88 keys.
Additionally, it removes the "stiffness" that experienced piano players often complain of when playing a brand new pianos, and brings out the full performance potential inherent in its design. Traditionally, regulation was considered an essential part of the purchase of a piano, and piano dealers were judged on the quality of their regulation.
Piano Voicing
Piano voicing involves balancing the volume, tone, and overall sound of the piano by adjusting the hardness of the hammer felts by pricking them with needles using a tool called a "picker". While this sounds like a simple enough task, it requires years of experience to get a feel for how to achieve the "right" voicing for an individual piano. It can be a time consuming task on a higher quality piano, which will generally start with denser felt so that it needs to be replaced less frequently. In many ways, voicing is as much art as science, and as such relies heavily on the taste and experience of the technician.
There is a widespread myth that Japanese pianos have an inherently "bright" or "harsh" sound, compared with their more expensive European and North American counterparts. This is simply not the case. More often than not, this comes down to the piano's voicing being given little, or no attention by the seller. In point of fact, most Yamaha pianos still use the same felt and strings as a Steinway. If a mellow sound is what you want in your piano, we are more than happy to oblige.
Piano Tuning
As with regulation, the tuning of a piano is heavily impacted by changes in atmospheric conditions. As a result of this, it is crucial that a new piano is not merely tuned prior to sale, but left to sit, and retuned in a repeated cycle until the technician can be certain that the tuning will remain stable.
Typically, a piano requires three tunings prior to sale, but sometimes more are necessary, depending on a variety of factors including construction, weather and even the specific cuts of timber used in the instrument. Ultimately, we see it as our responsibility to continue tuning a piano until we can be sure it's going to stick.
Unfortunately, many dealers try to bypass this process by offering to tune the piano in your home, offering the explanation that "moving the piano will put it out of tune". This is absolutely false. However, it is true that piano's tuning will drift a little in the first six months as it acclimatises to your home. 
To remedy this, all pianos sold at Logans include at least one free tuning to be used at any point in the first six months, as part of Yamaha's  Premium Piano Care Program. Grand Pianos pianos may include up to 10 years worth of free tunings, free of charge.
Assuming your piano has been prepared correctly and nothing unexpected happens (flood, fire, pestilence etc.), it should only require scheduled tuning every 6-12 months, and a course of regulation and voicing every few years.
The Logans Difference
A full course of tuning, regulation, and voicing on a new piano runs anywhere from $900 to $1100, depending on the specific instrument. Logans include this service as part of the purchase price on every new piano we sell, free of charge.
All pianos also include free delivery, a matching piano bench, manufacturers warranty, and at least one free tuning after delivery We can also arrange continued maintenance afterwards. The knowledge and experience gained over the past century, ensures a Logans Piano will deliver the best possible performance and the greatest enjoyment for many decades to come.
While many piano sellers advertise tuning and regulation as part of their pre-sale service, most consistently fail to invest the time and resources required to bring them up to standard. This is a fact we are regularly reminded of whenever one of our technicians arrives for a scheduled tuning on a piano purchased from a competitor, and finds that it in need of voicing and regulation, just six months after purchase.
We have found that our satisfied clients often share their Logans experience with students, family, friends. In fact, the majority of people who purchase a piano from us initially chose Logans based on recommendation and reputation. These recommendations depend not just on quality customer service but also on the great performance of our pianos long after they have been delivered. We therefore select and prepare our new pianos very carefully. This more than anything else is what has kept our doors open for almost 100 years.
Please note that due to an enormous surge in online shopping due to the current COVID-19 restrictions, deliveries may take longer than usual. 
Logistics networks across Australia are stretched to breaking point at the moment, so we ask your patience with our staff, and delivery drivers. We're all doing our best to make sure you receive your orders in a safe and timely manner, and to provide up to date information where possible. Trust me, this is just as frustrating for us as it is for you.

-Chris Logan

General
Logans Pianos offers Australia wide shipping on all products on our website and our Burwood store. The vast majority of our orders are eligible for free, or $8.95 flat rate shipping. For more details, see below.
We will always do our best to make your order as fast and easy as possible. In most cases, we will process and ship your order next business day. 
For a variety of reasons, sometimes this is not possible. In these cases, we will always notify you by email or phone of the expected lead time the following business day.
International shipping is available for many of the products on our website using courier shipping. See below for details.
Tracking Your Order
You will always be notified by email or phone once your order has been shipped, and will be able to track it using the provided shipping information here.
Returns
If you are looking for our returns policy, please click here
Delivery Options
Logans are pleased to offer a variety of delivery options to our customers so you can choose the shipping method that best suits your needs.
In most cases, you will receive your order in 2-5 business days from the time of your order, but we ask that you allow up to 14 days for delivery, to account for unexpected delays.
Free & Flat Rate Shipping
Most orders over $199 qualify for free shipping.
orders under $199 are eligible for $8.95 flat rate shipping To NSW, VIC and ACT, or $15 flat rate shipping to all other Australian states.
Small products such as books, strings and small accessories may be sent with Australia post, and may not include a tracking number. If tracking is important to you, please choose courier shipping to ensure you will be able to track your order.
We have send tens of thousands of books and accessories in this manner, and very rarely have issues. If your product arrives damaged, or has not arrived within 14 days, please contact us as soon as possible, and we will replace it free of charge. 
Acoustic Pianos, Digital Pianos with a shipping weight of over 80kg, and other products that require specialist delivery services or installation are not eligible for free or flat rate shipping.
Orders to Western Australia do not qualify for free shipping.
In Store Pickup
Most products can be picked up from our Burwood store. If you choose this option at checkout, please wait for us to confirm your products are ready for pickup before pick it up. 
We are able to arrange curbside pickup/click and collect on customer request.
Courier Shipping
Logans are pleased to offer shipping by the following couriers:
Couriers Please
Fastway
Parcel Point
Quantium
Seko
Sendle
TNT
Toll
UPS
Clipper Parcels (Sydney Only)
In most cases, the fastest, cheapest and best options to your location will appear at checkout, allowing you to choose the courier and rate that best suits your needs. Sometimes, rural and remote and international areas will not calculate shipping. This doesn't mean we can't ship to you, or even that it's going to be particularly expensive. Generally, we recommend you use flat rate shipping in these cases, but if this is not appropriate, or available for you, please contact us, and we will discuss your options with you. 
Digital Pianos Delivery & Setup
Digital Piano delivery and setup is available in the Sydney Metro area for the cost of $150 +$0.30 per stair.
Additional surcharges apply to deliveries outside of the Sydney Metro area, and will need to be scheduled in advance. Please contact us for an obligation free quote.
As you will have to be home to show the carriers where to set up your piano, we will call to schedule your delivery at a time that is convenient for you. 
Acoustic Pianos Delivery
Logans only work with the best speciality piano carriers in the business - Dragon & Goninans. This ensures that your piano will arrive not only undamaged, but in tune & well regulated. Delivery to Sydney metro area is free to ground level, +$50 for each flight of stairs. 
Additional surcharges apply to deliveries outside of the Sydney Metro area, and will need to be scheduled in advance. Please contact us for an obligation free quote, or select "Post-paid Piano Shipping" at checkout, and we will call you the following business day to discuss your shipping options. Note that selecting this option means your shipping costs are not included in the price of your order, and will need to be paid prior to delivery.
As you will have to be home to show the carriers where to place your piano, we will call to schedule your delivery at a time that is convenient for you. 
Pre-Orders & Out Of Stock
Out of stock or new release products will generally be available for pre-order. If you pre-order a product online, we will contact you using the details provided your order to give you an ETA the next business day. For most products, this will add less than a week to the delivery time for your order.
In the case of new release products, or some specialty items, lead times can be up to six months. If you would like to know the ETA of a product before pre-ordering, please contact us by email, phone, or using the chat widget and we will give you an ETA.
In all cases, you can cancel a pre-order for a full refund within 30 days. Standard refund conditions apply. Click here to see our refund policy