Yamaha Stage Custom Birch Drum Set
SKU: SCBEUROH7PW
Intermediate/Pro Drum Set
Birch Shells
Yamaha enhanced sustain system
Available in Euro or Fusion Sizes
With the introduction of Stage Custom in 1995 YAMAHA once again sets the standards of value and sound. The new Stage Custom inherits 100% birch wood, with upgraded metal parts.
Shell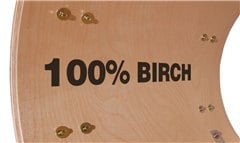 The shell is a key factor in a drum's ability to "rumble," or resonate. Accordingly, the Stage Custom employs 100% birch - a classic in the realm of high-class drum kits. Moreover, with its six-ply structure the Stage Custom accurately conveys the vibrations produced at the impact surface, achieving performance that overwhelms anything in its class.
Yamaha Enhanced Sustain System - YESS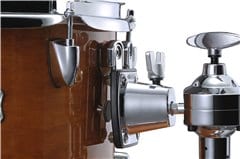 The secret of our YESS system is twofold: First, it provides minimum contact of hardware with shell; second, it connects that hardware at the nodal point* of the drum - the point at which it will not interfere with shell vibration. Nylon bushings on rod clamps afford maximum stability. The YESS system permits toms to be placed close together, and does not interfere with quick head changes. On floor toms, our YESS system offers wide open sustain while keeping toms stable under the heaviest strokes. * Nodal point mounting is patented by the Noble & Cooley Drum Company.
Ball Mount & Clamp
A tribute to Yamaha design technology, our original ball mount and clamp has gone through very few modifications over the years. A large, ultra-hard resin ball sits in an attractive chromed housing, held in place with a titanium ergonomic wing bolt. It is the ultimate drummer-friendly mount, offering non-slip positioning virtually anywhere the drummer can imagine. Additionally, it permits tuning of the bottom head by simply rotating the drum.
Die-cast claw hook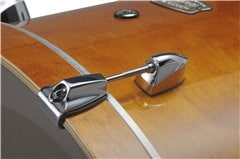 New Stage Custom adopts Die-cast claw hooks with rubber insertion plates to reduce noises.
BD leg with stopper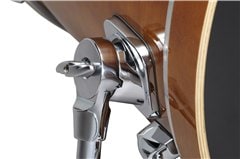 Bass drum legs of Stage Cutsom have the stoppers to make setting easier.
Design/Architecture Detail
Hoop
Model
Triple Flange Hoop
Material
Steel
Thickness
1.5mm
Lugs
Type
Separate Lug
Shells
Material
Birch
Head
Top
Remo UT Clear
Bottom
Remo UT Clear
Front
Remo UT Ebony P3
Batter
Remo UT Clear P3
Shell Packages
Set No.
Bass Drum
Floor Tom
Tom Tom
Snare Drum
Tom Holder
SBP2F5
SBB2217
SBF1615
SBT1208
SBT1007
SBS1455
SBB2017
SBF1413
SBT1208
SBT1007
SBS1455
TH945C
General
Logans Pianos offers Australia wide shipping on all products on our website and our Burwood store. The vast majority of our orders are eligible for free, or $6.95 flat rate shipping. For more details, see below.
We will always do our best to make your order as fast and easy as possible. In most cases, we will process and ship your order next business day. 
For a variety of reasons, sometimes this is not possible. In these cases, we will always notify you by email or phone of the expected lead time the following business day.
International shipping is available for many of the products on our website using courier shipping. See below for details.
Tracking Your Order
You will always be notified by email or phone once your order has been shipped, and will be able to track it using the provided shipping information here.
Returns
If you are looking for our returns policy, please click here
Delivery Options
Logans are pleased to offer a variety of delivery options to our customers so you can choose the shipping method that best suits your needs.
In most cases, you will receive your order in 2-5 business days from the time of your order, but we ask that you allow up to 14 days for delivery, to account for unexpected delays.
Free & Flat Rate Shipping
Most orders over $100 qualify for free shipping.
Most orders under $100 are eligible for $6.95 flat rate shipping.
Small products such as books, strings and small accessories may be sent with Australia post, and may not include a tracking number. If tracking is important to you, please choose courier shipping to ensure you will be able to track your order.
We have send tens of thousands of books and accessories in this manner, and very rarely have issues. If your product arrives damaged, or has not arrived within 14 days, please contact us as soon as possible, and we will replace it free of charge. 
Acoustic Pianos, Digital Pianos with a shipping weight of over 80kg, and other products that require specialist delivery services or installation are not eligible for free or flat rate shipping.
In Store Pickup
Most products can be picked up from our Burwood store. If you choose this option at checkout, please wait for us to confirm your products are ready for pickup before pick it up. 
Courier Shipping
Logans are pleased to offer shipping by the following couriers:
Couriers Please
Fastway
Parcel Point
Quantium
Seko
Sendle
TNT
Toll
UPS
Clipper Parcels (Sydney Only)
In most cases, the fastest, cheapest and best options to your location will appear at checkout, allowing you to choose the courier and rate that best suits your needs. Sometimes, rural and remote and international areas will not calculate shipping. This doesn't mean we can't ship to you, or even that it's going to be particularly expensive. Generally, we recommend you use flat rate shipping in these cases, but if this is not appropriate, or available for you, please contact us, and we will discuss your options with you. 
Digital Pianos Delivery & Setup
Digital Piano delivery and setup is available in the Sydney Metro area for the cost of $150 +$0.30 per stair.
Additional surcharges apply to deliveries outside of the Sydney Metro area, and will need to be scheduled in advance. Please contact us for an obligation free quote.
As you will have to be home to show the carriers where to set up your piano, we will call to schedule your delivery at a time that is convenient for you. 
Acoustic Pianos Delivery
Logans only work with the best speciality piano carriers in the business - Dragon & Goninans. This ensures that your piano will arrive not only undamaged, but in tune & well regulated. Delivery to Sydney metro area is free to ground level, +$50 for each flight of stairs. 
Additional surcharges apply to deliveries outside of the Sydney Metro area, and will need to be scheduled in advance. Please contact us for an obligation free quote, or select "Post-paid Piano Shipping" at checkout, and we will call you the following business day to discuss your shipping options. Note that selecting this option means your shipping costs are not included in the price of your order, and will need to be paid prior to delivery.
As you will have to be home to show the carriers where to place your piano, we will call to schedule your delivery at a time that is convenient for you.