Ibanez RGA742FM Electric Guitar
SKU: 6043200
Ibanez RGA Series 7 String electric guitar
Carved flame maple top
Lightning fast 24 fret Wizard 3 Neck
Jatoba fingerboard

Quantum Pickups

Deeper cutaways for better high range access
Includes

 

10' DiMarzio Cable,

 

Grafix Gig Bag

 

&

 

Fender Clip on Tuner

 

(RRP $120) until 7/5/2021
Ibanez builds guitars for players of all levels—from beginners to the most demanding masters of the instrument. Regardless of price, Ibanez always strives to offer the absolute best sound, style, and playability in its class. The Standard series incorporates all the staples the Ibanez brand is famous for, such as fast necks, floating trems, and high-octane distortion in a package that is available and accessible to most players.

Nothing breathes inspiration into your playing like the feel of a precision made instrument, capable of interpreting your every move with power and accuracy. Enter the Ibanez RGA— a solid body specifically built to handle the heaviest, most physically demanding music you can conjure up. The RGA's unique, sleekly sculpted top offers unrestricted playability for full-throttle power chording, shred or heavy riffing without fear of discomfort.
The RGA42FM is a hardtail, 7-String Electric Guitar that features a sultry flamed maple top with white binding, a fast Wizard III maple neck & Jatoba fretboard with jumbo frets for maximum left-hand performance. Combined, the neck and fingerboard provide a smooth, inviting playing experience and contribute to the RGA42's warm, well-defined sound.
Also the directly mounted proprietary Quantum pickups offer an entire palette of thick, distorted tone textures that never sacrifice high-end articulation. A quality fixed bridge provides stable, dependable tuning and accurate intonation.
Features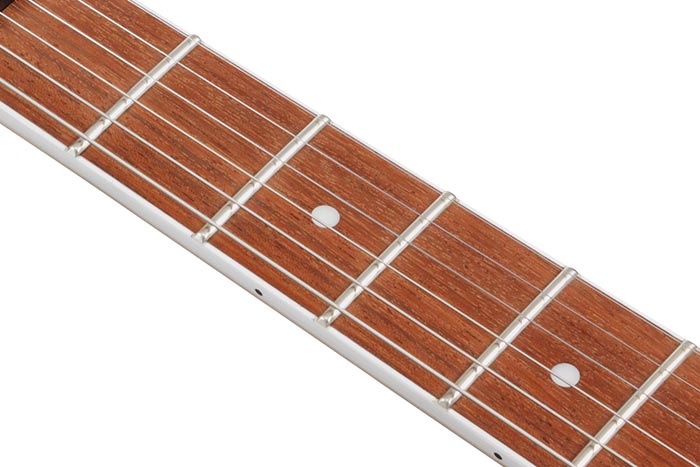 Jatoba Fretboard
Jatoba has a reddish brown color which produces a rich mid range with a crisp high end.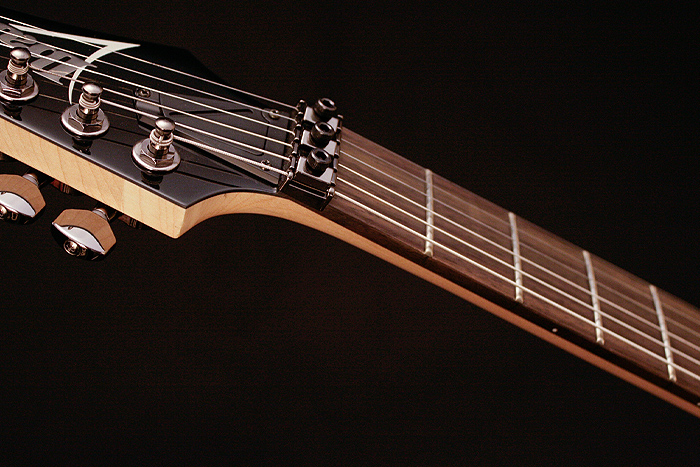 Wizard III Maple neck
Ibanez's thin, flat and fast Wizard neck is strong and sturdy and offers unlimited playability and features a two-octave 24-fret fretboard for a wide tonal range.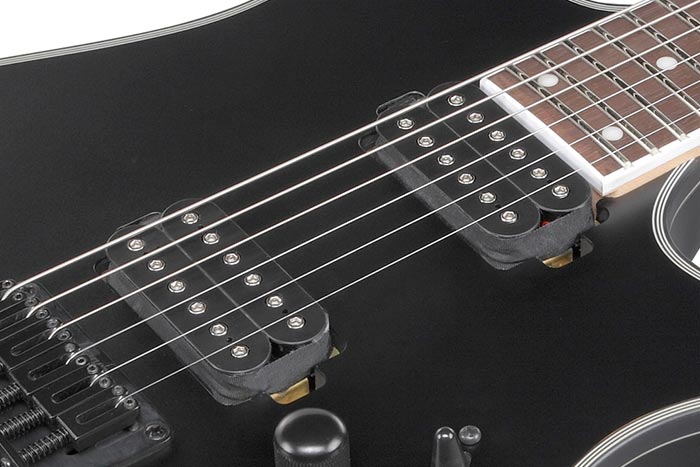 Quantum pickups
The Quantum pickups provide accelerated bass response for exceptionally fast tracking of high-speed staccato riffing with crushing mid range and precise high-end articulation.
SWITCHING SYSTEM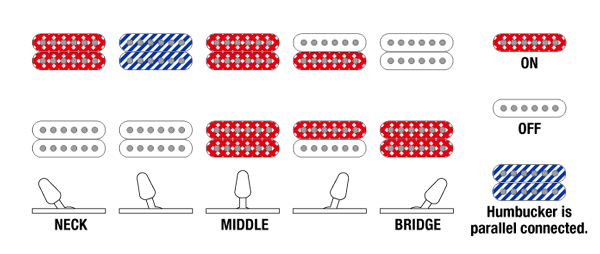 DESCRIPTION
When the pickup selector switch is in neck position, the neck pickup is selected. When the switch is between neck and center position, the neck humbucker is selected and is in parallel. When the switch is in center position, both neck and bridge pickups are selected. When the switch is in between center and bridge position, bridge side of the neck pickup and neck side of the bridge pickup are selected. When the switch is in bridge position, the bridge pickup is selected.
CONTROLS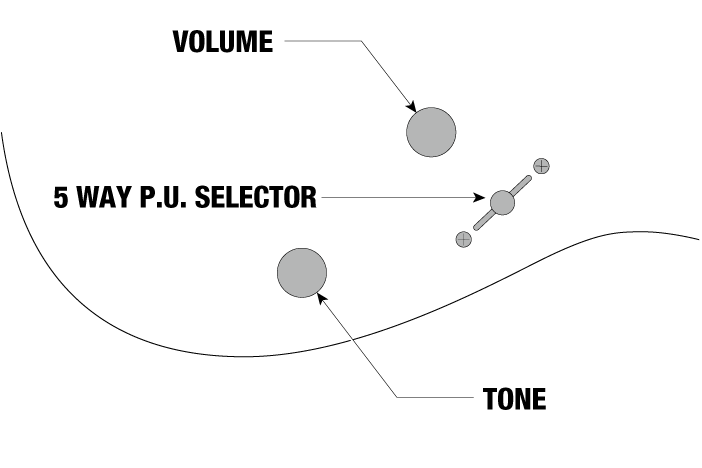 DESCRIPTION
With the guitar held in the playing position, there is one knob and one switch along the lower edge of the body. Closest to the neck is the five-way pickup selector switch. Closer to the input jack is the tone knob. The volume knob is located right above the five-way pickup selector switch.
Neck type Wizard II-7 3pc Maple neck
Top/back/body Flamed Maple top Meranti body
Fretboard Jatoba Off-set white dot inlay
Frets 24 Jumbo frets

Bridge F107 bridge
String Spacing 10.5mm
Neck Pickup Quantum (H) neck pickup Passive/Ceramic
Bridge Pickup Quantum (H) bridge pickup Passive/Ceramic
Factory Tuning 1E, 2B, 3G, 4D, 5A, 6E, 7B
String Gauge .010/.013/.017/.026/.036/.046/.059
Hardware Colour Black
NECK DIMENSIONS
Scale: 648mm/25.5"
Nut Width: 48mm
1st Fret Thickness: 19mm
12th Fret Thickness: 21mm
24th Fret Width: 68mm

Radius: 400mm (15.75")
General
Logans Pianos offers Australia wide shipping on all products on our website and our Burwood store. The vast majority of our orders are eligible for free, or $8.95 flat rate shipping. For more details, see below.
We will always do our best to make your order as fast and easy as possible. In most cases, we will process and ship your order next business day. 
For a variety of reasons, sometimes this is not possible. In these cases, we will always notify you by email or phone of the expected lead time the following business day.
International shipping is available for many of the products on our website using courier shipping. See below for details.
Tracking Your Order
You will always be notified by email or phone once your order has been shipped, and will be able to track it using the provided shipping information here.
Returns
If you are looking for our returns policy, please click here
Delivery Options
Logans are pleased to offer a variety of delivery options to our customers so you can choose the shipping method that best suits your needs.
In most cases, you will receive your order in 2-5 business days from the time of your order, but we ask that you allow up to 14 days for delivery, to account for unexpected delays.
Free & Flat Rate Shipping
Most orders over $100 qualify for free shipping.
orders under $100 are eligible for $8.95 flat rate shipping To NSW, VIC and ACT, or $15 flat rate shipping to all other Australian states.
Small products such as books, strings and small accessories may be sent with Australia post, and may not include a tracking number. If tracking is important to you, please choose courier shipping to ensure you will be able to track your order.
We have send tens of thousands of books and accessories in this manner, and very rarely have issues. If your product arrives damaged, or has not arrived within 14 days, please contact us as soon as possible, and we will replace it free of charge. 
Acoustic Pianos, Digital Pianos with a shipping weight of over 80kg, and other products that require specialist delivery services or installation are not eligible for free or flat rate shipping.
Orders to Western Australia do not qualify for free shipping.
In Store Pickup
Most products can be picked up from our Burwood store. If you choose this option at checkout, please wait for us to confirm your products are ready for pickup before pick it up. 
We are able to arrange curbside pickup/click and collect on customer request.
Courier Shipping
Logans are pleased to offer shipping by the following couriers:
Couriers Please
Fastway
Parcel Point
Quantium
Seko
Sendle
TNT
Toll
UPS
Clipper Parcels (Sydney Only)
In most cases, the fastest, cheapest and best options to your location will appear at checkout, allowing you to choose the courier and rate that best suits your needs. Sometimes, rural and remote and international areas will not calculate shipping. This doesn't mean we can't ship to you, or even that it's going to be particularly expensive. Generally, we recommend you use flat rate shipping in these cases, but if this is not appropriate, or available for you, please contact us, and we will discuss your options with you. 
Digital Pianos Delivery & Setup
Digital Piano delivery and setup is available in the Sydney Metro area for the cost of $150 +$0.30 per stair.
Additional surcharges apply to deliveries outside of the Sydney Metro area, and will need to be scheduled in advance. Please contact us for an obligation free quote.
As you will have to be home to show the carriers where to set up your piano, we will call to schedule your delivery at a time that is convenient for you. 
Acoustic Pianos Delivery
Logans only work with the best speciality piano carriers in the business - Dragon & Goninans. This ensures that your piano will arrive not only undamaged, but in tune & well regulated. Delivery to Sydney metro area is free to ground level, +$50 for each flight of stairs. 
Additional surcharges apply to deliveries outside of the Sydney Metro area, and will need to be scheduled in advance. Please contact us for an obligation free quote, or select "Post-paid Piano Shipping" at checkout, and we will call you the following business day to discuss your shipping options. Note that selecting this option means your shipping costs are not included in the price of your order, and will need to be paid prior to delivery.
As you will have to be home to show the carriers where to place your piano, we will call to schedule your delivery at a time that is convenient for you. 
Pre-Orders & Out Of Stock
Out of stock or new release products will generally be available for pre-order. If you pre-order a product online, we will contact you using the details provided your order to give you an ETA the next business day. For most products, this will add less than a week to the delivery time for your order.
In the case of new release products, or some specialty items, lead times can be up to six months. If you would like to know the ETA of a product before pre-ordering, please contact us by email, phone, or using the chat widget and we will give you an ETA.
In all cases, you can cancel a pre-order for a full refund within 30 days. Standard refund conditions apply. Click here to see our refund policy