Ibanez AAD140 Acoustic Guitar
SKU: 6043269
The Advanced Acoustic series represents an important step forward in the long and storied tradition of the acoustic guitar. In what amounts to a fully reimagined acoustic experience, these instruments were designed from the ground up to deliver a richer, brighter, and louder tone, with an unprecedentedly wide dynamic range. With slightly larger than typical proportions, we decided to name this new body shape the "Grand Dreadnought." This reinvented design achieves a superb, powerful sound, and thanks to the extensive consideration given to the ergonomics, it's extremely comfortable to play. The Advanced Acoustic series pushes the acoustic guitar to new heights, in a way that promises an exciting new experience for all players.
Features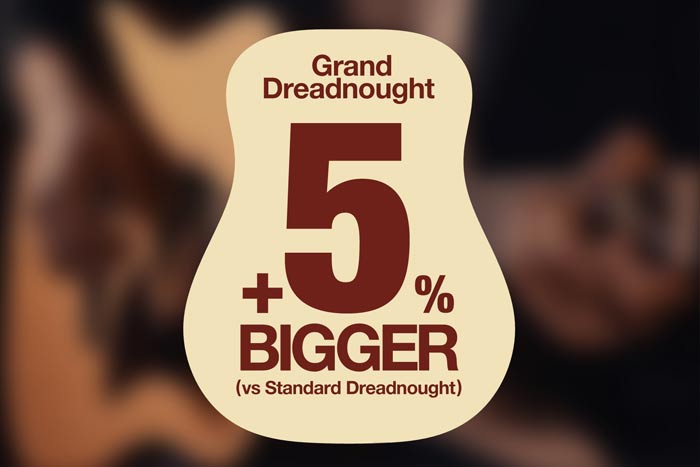 Grand Dreadnought body
Through a rigorous R&D process spanning several years, Ibanez has reimagined the Dreadnought from the ground up, pursuing the height of rich sound, robust low end, and rich tone. This brand new body shape is called the Grand Dreadnought. Proportionally, the Grand Dreadnought body is 5% larger than a standard dreadnought, allowing for more volume, richer tone, and more powerful low end response. It's also extremely comfortable to play thanks to the extensive consideration given to its ergonomics.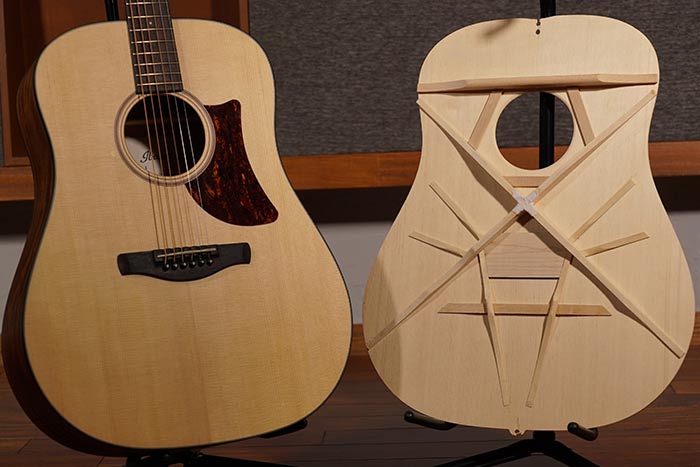 X-M Bracing
Spending a few years with trial and error, Ibanez finally reached to out-of-the-box X-M Bracing to generate the ultimate sound standing out on the stage. The carefully designed scalloped X-bracing, the allocation of tone braces and finger braces transmit the string vibration efficiently through the bridge to the body. The X-M Bracing creates the clear bottom and crispy treble sound with trimmed warm mid-range, yet providing wide dynamic range and highly response.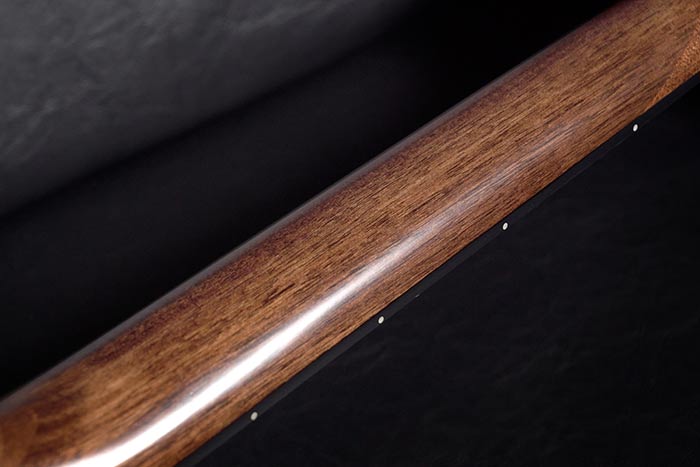 Low Oval Grip Thermo Aged™ Nyatoh neck with Rounded Fretboard Edge
The Low Oval neck grip is designed for easy chord strumming and the Rounded Fretboard Edges provides superior playability. Thermo Aged, a special drying process, makes the neck light and hard and provides stability and better resonance.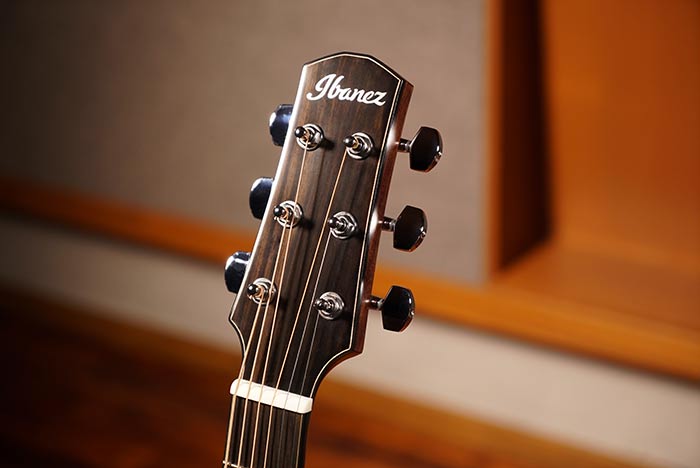 Functional Tapered Headstock
The newly designed headstock shape is the result of thorough research and investigation. Its tapered shape provides lighter weight, as well as a straight string alignment which enhances tuning stability and reduces any neck twisting effect.
Body Shape Grand Dreadnought
Bracing X-M Bracing

Top Solid Okoume top

Back & Sides Okoume back & sides

Neck Low Oval Grip with Rounded Fretboard Edge Thermo Aged™ Nyatoh neck

Fretboard Ovangkol fretboard
Inlays White dot inlay

Bridge Ovangkol Scalloped bridge

Soundhole Rosette Wooden multi

Tuning Machines Chrome Die-cast tuners (18:1 gear ratio)
Nut Plastic

Saddle Plastic

Bridge Pins Ibanez Advantage™

Number of Frets 20

Strings D'Addario® XTAPB1253

String Space 11mm

Pickup Ibanez T-bar Under Saddle pickup
NECK DIMENSIONS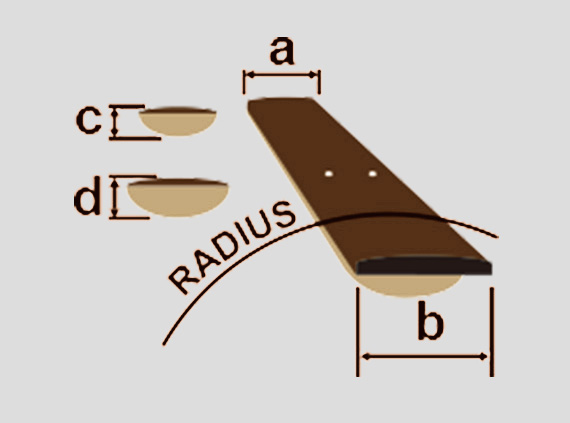 Scale : 651mm
a: Nut Width 43mm
b: 14 Fret Width 55mm
c: 1st Fret Thickness 20mm
d: 7th Fret Thickness 22mm
Radius: 400mm (15.75")
BODY DIMENSIONS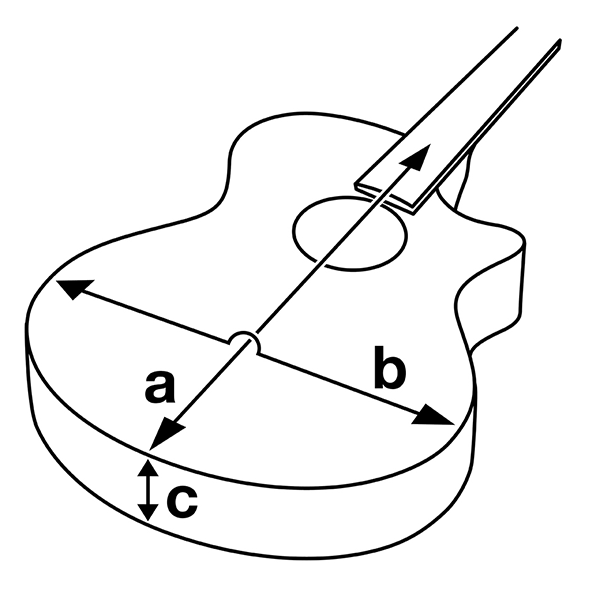 a: Length 20 3/8"
b: Width 16 1/4"
c: Max Depth 5"
General
Logans Pianos offers Australia wide shipping on all products on our website and our Burwood store. The vast majority of our orders are eligible for free, or $8.95 flat rate shipping. For more details, see below.
We will always do our best to make your order as fast and easy as possible. In most cases, we will process and ship your order next business day. 
For a variety of reasons, sometimes this is not possible. In these cases, we will always notify you by email or phone of the expected lead time the following business day.
International shipping is available for many of the products on our website using courier shipping. See below for details.
Tracking Your Order
You will always be notified by email or phone once your order has been shipped, and will be able to track it using the provided shipping information here.
Returns
If you are looking for our returns policy, please click here
Delivery Options
Logans are pleased to offer a variety of delivery options to our customers so you can choose the shipping method that best suits your needs.
In most cases, you will receive your order in 2-5 business days from the time of your order, but we ask that you allow up to 14 days for delivery, to account for unexpected delays.
Free & Flat Rate Shipping
Most orders over $100 qualify for free shipping.
orders under $100 are eligible for $8.95 flat rate shipping To NSW, VIC and ACT, or $15 flat rate shipping to all other Australian states.
Small products such as books, strings and small accessories may be sent with Australia post, and may not include a tracking number. If tracking is important to you, please choose courier shipping to ensure you will be able to track your order.
We have send tens of thousands of books and accessories in this manner, and very rarely have issues. If your product arrives damaged, or has not arrived within 14 days, please contact us as soon as possible, and we will replace it free of charge. 
Acoustic Pianos, Digital Pianos with a shipping weight of over 80kg, and other products that require specialist delivery services or installation are not eligible for free or flat rate shipping.
Orders to Western Australia do not qualify for free shipping.
In Store Pickup
Most products can be picked up from our Burwood store. If you choose this option at checkout, please wait for us to confirm your products are ready for pickup before pick it up. 
We are able to arrange curbside pickup/click and collect on customer request.
Courier Shipping
Logans are pleased to offer shipping by the following couriers:
Couriers Please
Fastway
Parcel Point
Quantium
Seko
Sendle
TNT
Toll
UPS
Clipper Parcels (Sydney Only)
In most cases, the fastest, cheapest and best options to your location will appear at checkout, allowing you to choose the courier and rate that best suits your needs. Sometimes, rural and remote and international areas will not calculate shipping. This doesn't mean we can't ship to you, or even that it's going to be particularly expensive. Generally, we recommend you use flat rate shipping in these cases, but if this is not appropriate, or available for you, please contact us, and we will discuss your options with you. 
Digital Pianos Delivery & Setup
Digital Piano delivery and setup is available in the Sydney Metro area for the cost of $150 +$0.30 per stair.
Additional surcharges apply to deliveries outside of the Sydney Metro area, and will need to be scheduled in advance. Please contact us for an obligation free quote.
As you will have to be home to show the carriers where to set up your piano, we will call to schedule your delivery at a time that is convenient for you. 
Acoustic Pianos Delivery
Logans only work with the best speciality piano carriers in the business - Dragon & Goninans. This ensures that your piano will arrive not only undamaged, but in tune & well regulated. Delivery to Sydney metro area is free to ground level, +$50 for each flight of stairs. 
Additional surcharges apply to deliveries outside of the Sydney Metro area, and will need to be scheduled in advance. Please contact us for an obligation free quote, or select "Post-paid Piano Shipping" at checkout, and we will call you the following business day to discuss your shipping options. Note that selecting this option means your shipping costs are not included in the price of your order, and will need to be paid prior to delivery.
As you will have to be home to show the carriers where to place your piano, we will call to schedule your delivery at a time that is convenient for you. 
Pre-Orders & Out Of Stock
Out of stock or new release products will generally be available for pre-order. If you pre-order a product online, we will contact you using the details provided your order to give you an ETA the next business day. For most products, this will add less than a week to the delivery time for your order.
In the case of new release products, or some specialty items, lead times can be up to six months. If you would like to know the ETA of a product before pre-ordering, please contact us by email, phone, or using the chat widget and we will give you an ETA.
In all cases, you can cancel a pre-order for a full refund within 30 days. Standard refund conditions apply. Click here to see our refund policy