Yamaha DGC2 Disklavier Enspire Grand Piano
SKU: DGC2ENSTPE
173cm (5'8") 

Baby grand Disklavier Piano 

Based on the GC2
Features the Enspire ST, Silent, and DSP systems
Listen to the world's best pianists perform live from your own home!
Made in Japan
Seasoned for Australian climate
Includes

 

tuning, regulation and voicing
Includes stool & delivery
Comes with FREE piano pack including:
Fitted Yamaha piano cover

Metronome

Unicorn Piano Polish

Yamaha & Logans 50th anniversary Commemorative Clock
The larger volume and an affordable price of the GC2 make this a very popular size instrument. With a superb sound and excellent resonance, the GC2 is a delight to play.
A piano of unlimited potential, the ENSPIRE ST provides full recording and playback functionality, the patented Yamaha SILENT Piano™ System and DSP Servo Drive System for users who want more from their acoustic piano. DGC2 ENST is based on the grand piano GC2.

This 173cm grand piano uses a C2X plate and scale design to deliver CX series tonal qualities at a G series price point. Fully built in Japan, this piano offers exceptional value for money, and is perfect for students, teachers and schools. Available in a selection of colours.
Technologically Discreet, Acoustically Elegant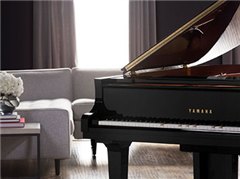 A streamlined control panel allows for simple tactile control while remaining hidden from view, providing the elegant look one would expect from a finely crafted Yamaha acoustic piano.
Effortless Integration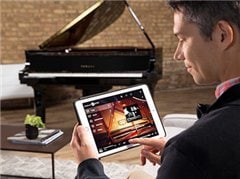 Wireless network connectivity and seamless compatibility with mobile devices, smartphones and computers allows intuitive access to all of the instrument's exclusive content and unique capabilities.
Thousands of Performances In One Masterpiece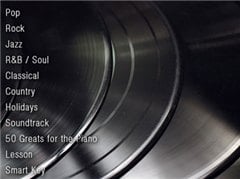 The Disklavier ENSPIRE allows you to revel in whatever music suits your mood or occasion, from classical solo piano or concerto selections to your favorite jazz or pop songs on piano – accompanied by audio and vocals. An easy-to-use and intuitive UI design provides direct access to 500 built-in songs* and thousands performances that can be downloaded directly to the instrument from the Yamaha MusicSoft online store.
Exclusive Streaming Services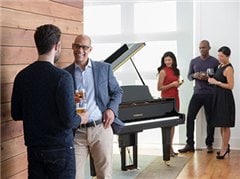 In addition, the ENSPIRE also offers revolutionary streaming radio services, allowing you to discover and enjoy thousands of piano performances in the comfort of your own home. Yamaha Piano Radio gives you instant access to over 30 channels of 24-hour streaming piano music.
*Built-in songs include 380 piano solo songs (PianoSoft Solo), 72 songs with instrumental accompaniments (PianoSoft Plus), and 48 songs with audio backing (PianoSoft Audio).
Artistic Excellence In Your Living Room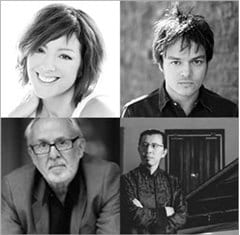 Disklavier ENSPIRE features popular, award-winning and legendary Yamaha artists such as Sarah McLachlan, Bob James, and Jamie Cullum*. These performances are not simply a rendition of the artist's songs, but exclusive performances by the actual artists themselves, recorded specifically for ENSPIRE. Experience the genuine touch, nuance and emotion as the instrument recreates a precise portrayal of the artist's intentions.
*Songs you can enjoy with audio (PianoSoft Audio) are totally 48 songs. And 13 of them are by Yamaha artists such as Bob James, Jamie Cullum, and Sarah McLachlan.
Every Note, Every Nuance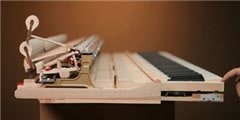 The Disklavier ENSPIRE is the only piano that can truly reproduce every nuance of a piano performance, precisely recreating all of the details that other player pianos cannot. For example, a player's key release timing controls the exact timing of each individual damper coming down on the string and contributes to the overall musical message that the pianist is trying to convey. Other player systems rely on predetermined programming to control the release of the piano keys, which results in every key releasing at the exact same speed during playback. This programming equates to half of the original performance being altered, which means half of the human element of the piano performance is removed. The Disklavier, by contrast, can reproduce all articulations of the performance, including the speed by which a key is released, meticulously reproducing what even other high-end systems cannot. Couple these unmatched reproducing capabilities with advanced AccuPlay DSP technology, and you have a piano that not only recreates every nuance of the original performance, but is intelligent enough to verify and adjust itself during playback to ensure accurate performance reproduction.
Inspired By Technology, Powered By Performance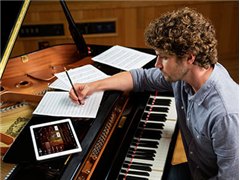 Extremely accurate recording functions allow teachers and students to critique recorded performances - providing new ways for students to enhance their musical development. Proprietary video sync technology gives users the ability to create, archive and share an acoustic piano driven visual performance using just the piano and a video camera.
The Sound of Innovation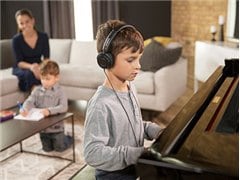 Yamaha SILENT Piano™ technology allows you to listen, learn and play without being disturbed or disturbing others. Utilizing a unique sampling technique that replicates the interaural characteristics of the human ear, the Disklavier ENSPIRE binaurally recreates the sound, presence and resonance of a Yamaha CFX Concert Grand from the player's position through headphones. This innovative technology is built into every ENSPIRE ST and PRO model Disklavier, giving you increased flexibility and more opportunities to enjoy your piano.
THE BEAUTIFUL NEW GC SERIES
The beautiful new GC Series combines the duplex scaling and rich tonal character of the coveted C Series grand with cost-saving advantages in materials and production to create an instrument that's both exceptionally expressive and uncommonly affordable.
OVER A CENTURY OF DISTINGUISHED GRAND PIANO MAKING
Unparalleled in their beauty and musical range, grand pianos are the ultimate expression of the piano maker's art. Yamaha is proud to present a comprehensive line of incomparable grands, reflecting the very latest in Yamaha acoustic and technological advances.
CRAFTED WITH UNCOMMON CARE AND INTEGRITY
Yamaha grand pianos have earned a global reputation as instruments of outstanding quality and value. Renowned for their eloquent expressive range, and for their reliable performance over time, they play an important role in the performing arts and music education. They are consistently among the pianos most highly recommended by piano tuner/technicians and a leading choice of pianists at all levels, all over the world.
The Yamaha reputation rests on a century-long tradition of uncompromising care and craftsmanship, supported by an unmatched range of integrated expertise, top-of-the-line production facilities, and an exceptionally skilled, knowledgeable and dedicated workforce. Our strength in the full range of relevant technologies allows us to produce virtually every part of every piano ourselves – an approach that has helped us initiate significant advances and set what has long been recognized as the industry standard in quality control.
An open dialog with professional musicians generates invaluable input that, in conjunction with sophisticated research facilities, has led to continual advances in each new generation of Yamaha pianos. Our global network offers Yamaha customers additional advantages, from cost-efficient regional manufacturing to the ready availability of sales and support throughout most of the world.
Balancing cutting-edge technology and innovation with the timeless skills of expert artisans, Yamaha pianos have come to represent an unsurpassed standard of affordable excellence. It is a standard that continues to generate ever-higher acclaim and make Yamaha grand pianos the first choice of many of the world's most discriminating pianists.
DIMENSIONS
Width 149 cm (59")
Height 101 cm (40")
Depth 173 cm (5'8")
Weight 331 kg (728 lbs)
KEYBOARD
Piano Silencing Mechanism Yes (Motor-driven hammer shank stopper)
TONE GENERATION
Piano Sound CFX Binaural Sampling / CFX Stereo Sampling
Polyphony (max.) 256
Preset Number of Voices 16 (Piano, Electric Piano 1-3, Harpsichord 1 & 2, Vibraphone, Celesta, Pipe Organ 1-4, Jazz Organ, Strings, Choir, Synth Pad)
Voices for Song Playback 480 XG Voices + 12 Drum/SFX Kits
Compatibility - XG Yes
Compatibility - GM Yes
SONGS
Number of Built-in Songs 500 (Pop, Jazz, Classical, Smart Key etc. 380 piano solo songs (PianoSoft Solo), 72 songs with instrumental accompaniments (PianoSoft Plus), and 48 songs with a studio backing (Piano Soft Audio))
Compatible Data Format SMF (Standard MIDI File, Format 0&1), MP3, WAV
Compatible Song Format PianoSoft, PianoSoft Plus, PianoSoft Audio, Smartkey
Recording Yes
OVERALL CONTROLS
Tuning 414.8 – 440.0 – 466.8 Hz (approx. 0.2 Hz increments)
CONNECTIVITY & STORAGE
Headphones Stereo mini jack (x2)
MIDI IN/OUT
OUTPUT Yes
DIGITAL OUT Yes
USB TO DEVICE x3
USB TO HOST Yes
LAN Yes
OMNI (SYNC) IN/OUT
Compatible Storage Media - USB Flash Memory Yes
Power Requirements AC100 V - 240 V, 50/60 Hz
ACCESSORIES
Included Accessories Monitor Speaker x2, Speaker Hanger x2, Stereo Headphone, Operation Manual, Build-in Song List, 50 Greats for the Piano Music Book, USB Wireless Lan Adaptor (UD-WL01)
SENSOR UNIT
Key Sensors Non-contact Optical Fibre Grayscale Shutter Sensing System for 88 Keys (Sensors for the key position, keying velocity, and key releasing velocity)
Hammer Sensors Non-contact Optical Fibre/Grayscale Sensing System
Pedal Sensors Damper & Shift pedal: Non-contact Digital Optical Position-sensing System, Sostenuto pedal: ON/OFF Detection Sensing System
Drive UNIT
Key Drive DSP Servo Drive System (High power servo-controlled solenoids with super sensitive magnetic sensor, Key/hammer sensor feedback)
Pedal Drive DSP Servo Drive System (Servo-controlled solenoids)
"We want our clients to have peace of mind with a finished and performance-ready piano of superb quality. We do not cut corners, and we will never settle for anything less than getting the best out of every piano we sell." - Geoff Logan
Why Buy Your Piano From Logans?
Anyone can tell you they provide great service, but can they prove it? Logans Pianos have been in the piano business for almost a century, and in that time we've provided pianos for some of the most important performers and institutions in the music industry. Our long history as Sydney's most trusted name in pianos bears testament to the fact the we are the best in the business, and we have the evidence to back that claim up.
Now with four generations of experience, we have the expertise to ensure that a piano from Logans will deliver the best possible performance and the greatest enjoyment for many decades to come.
All pianos purchased from Logans come with a minimum of $1250 worth of extras, including:
Minimum three courses of tuning, regulation & voicing
10 Year Warranty, and free after sale care
Delivery to ground level
Matching Yamaha piano bench
Limited Time offer: 50th anniversary pack, including fitted piano cover, metronome, piano polish & commemorative clock with Logans and Yamaha logos. 
What is Piano Regulation?
Production schedules in factories only allow for a certain amount of time to be spent on each piano. Additionally, pianos are shipped in vacuum sealed environments, and moving parts shift slightly as they adjust to their new environment. Adjustments made by a piano technician to an instrument's keys and action to compensate for these shifts is referred to as "regulation".
All new pianos before leaving their factory are tuned and regulated. Piano components including wood, felt, and doeskin have a tendency to "bed down" and change in thickness for some time, thus altering the regulation and performance of the piano. All manufacturers fundamentally insist that their new pianos be regulated again before being sold.
Today, piano regulation is a dying art, and Logans are one of very few piano shops in Australia that still perform a full course of regulation as part of every sale. A large percentage of pianos sold in Australia receive no more than a single tuning at this most important stage in their lives - a fact even Yamaha Australia have tactely acknowleged in labelling Logans Pianos the only Yamaha Piano Authorised Sales and Service Centre in NSW.
Why is Regulation Important?
Piano regulation is vital to ensuring a long and healthy life for any piano, whether it's a $6000 upright or a $500 000 Concert Grand. The minute adjustments made by a piano technician prevent vital moving parts for rubbing together and wearing prematurely, and ensures a clear, even volume by ensuring the action is balanced across all 88 keys.
Additionally, it removes the "stiffness" that experienced piano players often complain of when playing a brand new pianos, and brings out the full performance potential inherent in its design. Traditionally, regulation was considered an essential part of the purchase of a piano, and piano dealers were judged on the quality of their regulation.
Piano Voicing
Piano voicing involves balancing the volume, tone, and overall sound of the piano by adjusting the hardness of the hammer felts by pricking them with needles using a tool called a "picker". While this sounds like a simple enough task, it requires years of experience to get a feel for how to achieve the "right" voicing for an individual piano. It can be a time consuming task on a higher quality piano, which will generally start with denser felt so that it needs to be replaced less frequently. In many ways, voicing is as much art as science, and as such relies heavily on the taste and experience of the technician.
There is a widespread myth that Japanese pianos have an inherently "bright" or "harsh" sound, compared with their more expensive European and North American counterparts. This is simply not the case. More often than not, this comes down to the piano's voicing being given little, or no attention by the seller. In point of fact, most Yamaha pianos still use the same felt and strings as a Steinway. If a mellow sound is what you want in your piano, we are more than happy to oblige.
Piano Tuning
As with regulation, the tuning of a piano is heavily impacted by changes in atmospheric conditions. As a result of this, it is crucial that a new piano is not merely tuned prior to sale, but left to sit, and retuned in a repeated cycle until the technician can be certain that the tuning will remain stable.
Typically, a piano requires three tunings prior to sale, but sometimes more are necessary, depending on a variety of factors including construction, weather and even the specific cuts of timber used in the instrument. Ultimately, we see it as our responsibility to continue tuning a piano until we can be sure it's going to stick.
Unfortunately, many dealers try to bypass this process by offering to tune the piano in your home, offering the explanation that "moving the piano will put it out of tune". This is absolutely false. However, it is true that piano's tuning will drift a little in the first six months as it acclimatises to your home. 
To remedy this, all pianos sold at Logans include at least one free tuning to be used at any point in the first six months, as part of Yamaha's  Premium Piano Care Program. Grand Pianos pianos may include up to 10 years worth of free tunings, free of charge.
Assuming your piano has been prepared correctly and nothing unexpected happens (flood, fire, pestilence etc.), it should only require scheduled tuning every 6-12 months, and a course of regulation and voicing every few years.
The Logans Difference
A full course of tuning, regulation, and voicing on a new piano runs anywhere from $900 to $1100, depending on the specific instrument. Logans include this service as part of the purchase price on every new piano we sell, free of charge.
All pianos also include free delivery, a matching piano bench, manufacturers warranty, and at least one free tuning after delivery We can also arrange continued maintenance afterwards. The knowledge and experience gained over the past century, ensures a Logans Piano will deliver the best possible performance and the greatest enjoyment for many decades to come.
While many piano sellers advertise tuning and regulation as part of their pre-sale service, most consistently fail to invest the time and resources required to bring them up to standard. This is a fact we are regularly reminded of whenever one of our technicians arrives for a scheduled tuning on a piano purchased from a competitor, and finds that it in need of voicing and regulation, just six months after purchase.
We have found that our satisfied clients often share their Logans experience with students, family, friends. In fact, the majority of people who purchase a piano from us initially chose Logans based on recommendation and reputation. These recommendations depend not just on quality customer service but also on the great performance of our pianos long after they have been delivered. We therefore select and prepare our new pianos very carefully. This more than anything else is what has kept our doors open for almost 100 years.
Please note that due to an enormous surge in online shopping due to the current COVID-19 restrictions, deliveries may take longer than usual. 
Logistics networks across Australia are stretched to breaking point at the moment, so we ask your patience with our staff, and delivery drivers. We're all doing our best to make sure you receive your orders in a safe and timely manner, and to provide up to date information where possible. Trust me, this is just as frustrating for us as it is for you.

-Chris Logan

General
Logans Pianos offers Australia wide shipping on all products on our website and our Burwood store. The vast majority of our orders are eligible for free, or $8.95 flat rate shipping. For more details, see below.
We will always do our best to make your order as fast and easy as possible. In most cases, we will process and ship your order next business day. 
For a variety of reasons, sometimes this is not possible. In these cases, we will always notify you by email or phone of the expected lead time the following business day.
International shipping is available for many of the products on our website using courier shipping. See below for details.
Tracking Your Order
You will always be notified by email or phone once your order has been shipped, and will be able to track it using the provided shipping information here.
Returns
If you are looking for our returns policy, please click here
Delivery Options
Logans are pleased to offer a variety of delivery options to our customers so you can choose the shipping method that best suits your needs.
In most cases, you will receive your order in 2-5 business days from the time of your order, but we ask that you allow up to 14 days for delivery, to account for unexpected delays.
Free & Flat Rate Shipping
Most orders over $199 qualify for free shipping.
orders under $199 are eligible for $8.95 flat rate shipping To NSW, VIC and ACT, or $15 flat rate shipping to all other Australian states.
Small products such as books, strings and small accessories may be sent with Australia post, and may not include a tracking number. If tracking is important to you, please choose courier shipping to ensure you will be able to track your order.
We have send tens of thousands of books and accessories in this manner, and very rarely have issues. If your product arrives damaged, or has not arrived within 14 days, please contact us as soon as possible, and we will replace it free of charge. 
Acoustic Pianos, Digital Pianos with a shipping weight of over 80kg, and other products that require specialist delivery services or installation are not eligible for free or flat rate shipping.
Orders to Western Australia do not qualify for free shipping.
In Store Pickup
Most products can be picked up from our Burwood store. If you choose this option at checkout, please wait for us to confirm your products are ready for pickup before pick it up. 
We are able to arrange curbside pickup/click and collect on customer request.
Courier Shipping
Logans are pleased to offer shipping by the following couriers:
Couriers Please
Fastway
Parcel Point
Quantium
Seko
Sendle
TNT
Toll
UPS
Clipper Parcels (Sydney Only)
In most cases, the fastest, cheapest and best options to your location will appear at checkout, allowing you to choose the courier and rate that best suits your needs. Sometimes, rural and remote and international areas will not calculate shipping. This doesn't mean we can't ship to you, or even that it's going to be particularly expensive. Generally, we recommend you use flat rate shipping in these cases, but if this is not appropriate, or available for you, please contact us, and we will discuss your options with you. 
Digital Pianos Delivery & Setup
Digital Piano delivery and setup is available in the Sydney Metro area for the cost of $150 +$0.30 per stair.
Additional surcharges apply to deliveries outside of the Sydney Metro area, and will need to be scheduled in advance. Please contact us for an obligation free quote.
As you will have to be home to show the carriers where to set up your piano, we will call to schedule your delivery at a time that is convenient for you. 
Acoustic Pianos Delivery
Logans only work with the best speciality piano carriers in the business - Dragon & Goninans. This ensures that your piano will arrive not only undamaged, but in tune & well regulated. Delivery to Sydney metro area is free to ground level, +$50 for each flight of stairs. 
Additional surcharges apply to deliveries outside of the Sydney Metro area, and will need to be scheduled in advance. Please contact us for an obligation free quote, or select "Post-paid Piano Shipping" at checkout, and we will call you the following business day to discuss your shipping options. Note that selecting this option means your shipping costs are not included in the price of your order, and will need to be paid prior to delivery.
As you will have to be home to show the carriers where to place your piano, we will call to schedule your delivery at a time that is convenient for you. 
Pre-Orders & Out Of Stock
Out of stock or new release products will generally be available for pre-order. If you pre-order a product online, we will contact you using the details provided your order to give you an ETA the next business day. For most products, this will add less than a week to the delivery time for your order.
In the case of new release products, or some specialty items, lead times can be up to six months. If you would like to know the ETA of a product before pre-ordering, please contact us by email, phone, or using the chat widget and we will give you an ETA.
In all cases, you can cancel a pre-order for a full refund within 30 days. Standard refund conditions apply. Click here to see our refund policy